There it was, sitting in the corner creaming butter and sugars together. A quiet hum from its motor filled my kitchen as the white paddle went round and round the metal bowl. As I stared at the red Kitchen Aid mixer, my stress level dropped. I took a much-needed exhale.
Hope filled my heart as I embarked on a new recipe – one guaranteed to be "the best chocolate chip cookie" my friend had EVER MADE. I was counting on her Facebook post to not let me down.
Step by step, I followed the recipe exactly. I even leveled the flour before pouring it in, and broke the eggs in a separate container – not over the bowl. Baking is good for rule-following girls like me who's hearts can't help but want to follow directions. And in the end, I was not disappointed. In fact, I was delighted. I'd just made one of the best chocolate chip cookies I'd ever eaten. My friend was right. They were really good.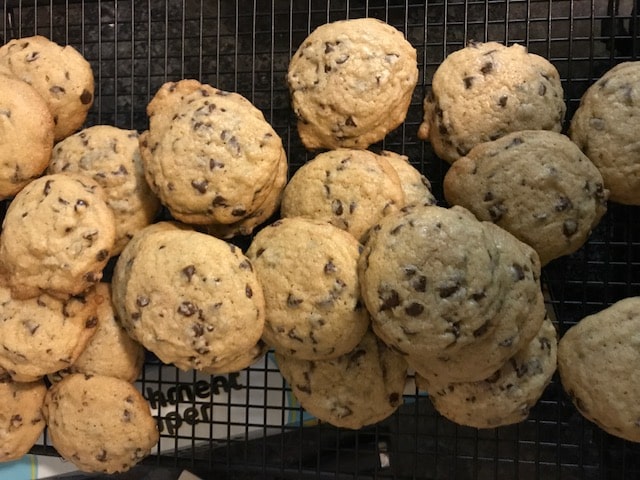 Since that day, I've baked hundreds of dozens of cookies with the recipe. They cheer me up when I feel down. They helped send my friend to Nicaragua. So for National Cookie Day and in the spirit of Christmas, I felt it was only right to share it with you.
Don't get me wrong – I almost held off. I mean if we're honest, don't we all want to keep the things we think set us apart and make us feel special all to ourselves?
But, it's more important to me that others enjoy this deliciousness over and over. Plus, these aren't my recipes to begin with, I'm one of the many bakers who's made this recipe a part of my baking tradition.
So in the spirit of sharing, here's my crowd-pleasing, go-to chocolate chip cookie recipe. Enjoy!
Soft and Chewy Chocolate Chip Cookies
(View the original recipe by Martha Stewart)
1 cup (2 sticks) unsalted butter, room temperature
1/2 cup granulated sugar
1 cup packed light brown sugar
1 teaspoon salt
2 teaspoons pure vanilla extract
2 large eggs (I make them room temperature)
2 cups (about 12 ounces) semisweet and/or milk chocolate chips (I use mini semisweet chocolate chips)
Directions:
1. Preheat oven to 350 degrees. Line two baking sheets with parchment paper.
2. In a small bowl, mix flour and baking soda; set aside.
3. With a mixer (I use my Kitchen Aid), combine the butter with both sugars. (I beat for awhile until it's fluffy – around 3-5 minutes.)
4. Stop the mixer & scrape down the sides. Then, turn it on "stir" and add the salt, vanilla and eggs. (Beat for a good minute or two.)
5. Add in the flour mixture and stop the mixer just when all the flour is mixed in.
6. Pour in the bag of chocolate chips (A lot of recipes tell you to stir them in, but I use the minis and have the mixer take a few more turns to get them mixed in well.)
7. You can chill the dough if you want, and I've also scooped it into little balls and frozen it – but you don't have to. I use a cookie scoop and fit 12 cookies per parchment-lined baking sheet. Put in the oven for 11-13 minutes. If you bake them all you'll have around 3-3 1/2 dozen.
8. When the edges of the cookies start to turn light brown but the middle looks set (it's OK if it's a tad bit gooey in the middle), take them out of the oven and let them rest on the pan for 5-10 minutes.
9. If you don't devour them all directly from the pan, let them cool on a wire rack for a few more minutes.
10. If you still haven't eaten them all and need to store them, use an air-tight container.
Have any other recipes you think rival this one? Comment below with a link and I'll give it a try!