There it was, sitting in the corner creaming butter and sugars together. A quiet hum from its motor filled my kitchen as the white paddle went round and round the metal bowl. As I stared at the red Kitchen Aid mixer, my stress level dropped. I took a much-needed exhale.
Hope filled my heart as I embarked on a new recipe – one guaranteed to be "the best chocolate chip cookie" my friend had EVER MADE. I was counting on her Facebook post to not let me down.
Step by step, I followed the recipe exactly. I even leveled the flour before pouring it in, and broke the eggs in a separate container – not over the bowl. Baking is good for rule-following girls like me who's hearts can't help but want to follow directions. And in the end, I was not disappointed. In fact, I was delighted. I'd just made one of the best chocolate chip cookies I'd ever eaten. My friend was right. They were really good.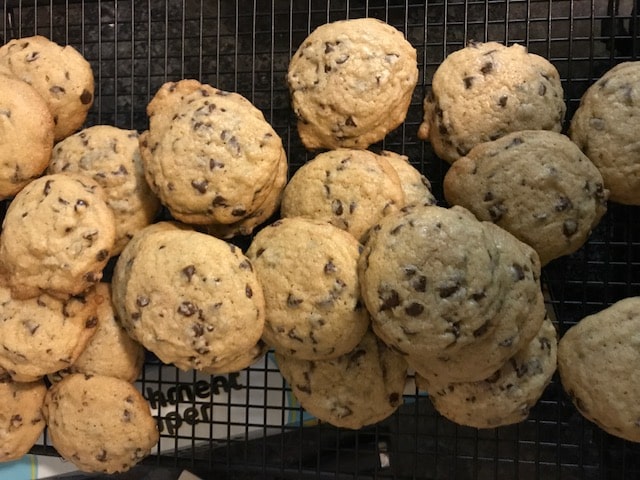 Since that day, I've baked hundreds of dozens of cookies with the recipe. They cheer me up when I feel down. They helped send my friend to Nicaragua. So for National Cookie Day and in the spirit of Christmas, I felt it was only right to share it with you.
Don't get me wrong – I almost held off. I mean if we're honest, don't we all want to keep the things we think set us apart and make us feel special all to ourselves?
But, it's more important to me that others enjoy this deliciousness over and over. Plus, these aren't my recipes to begin with, I'm one of the many bakers who's made this recipe a part of my baking tradition.
So in the spirit of sharing, here's my crowd-pleasing, go-to chocolate chip cookie recipe. Enjoy!