Ladies and gents, my girl has made it through 1st grade!
I'll let your mind wander and guess what it was like to get a 7-going-on-17-year-old to sit down on her last day and set summertime goals with me.
I mean isn't goal setting what every kid wants to do on the last day of school?!?
I did bribe her with a trip to Sonic.
And a sleepover.
And a new puppy.
And a water park in our backyard.
(Just kidding about those last two.)
As much as I knew this wasn't on her priority list, I wanted to understand what she hopes to get out of summer.

Teaching Kids Goal Setting
I did think twice - maybe this was overkill.
But then I went for it. Why?
I think setting goals is a great activity (and sometimes a skill) that gets a bad, business-y wrap.
I am hoping setting goals together will:
help us spend our time wisely
serve as motivation for good behavior
maximize the FUN this summer
Watching her write down goals told me what she defines as fun (and helped me know what to prioritize and incentive).
It helped me think critically about what I hope to accomplish the next few months too.
Now I didn't make sure they were SMART (spe
cific, measurable, achievable, relevant and timely); although a lot of them were off to a great start.
I'm proud of how quickly she got her list made and pumped for the days ahead.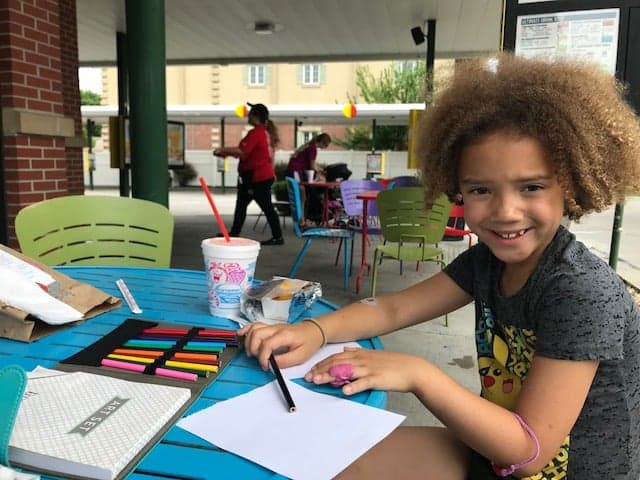 Here's what each of us wants to do this summer
So, what do we hope to do?
Over corndogs, tots and orange pop here's what we each came up with...
(I tried to avoid adding too many "adult" things on my list, which was harder than I thought it would be!)
Mae:
Play
Pool
Playdates
Grandma's house
Movie theatre
Get books at the library
Make books
Great Wolf Lodge
New pet
Eat ice cream
Mama:
Read books
Bake new things
Road trips
Hike
Write my book
Organize the house
Exercise
Visit St. Louis
Art classes
Movie theater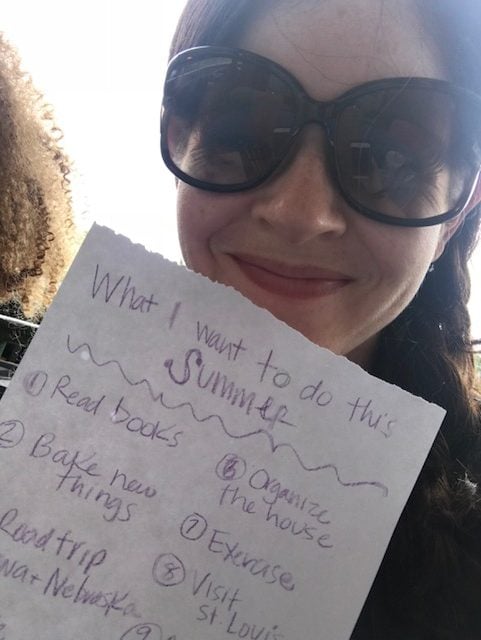 Fortunately - there's a lot of overlap here! We've got a lot of books and movies in our future.
Will you give me advice on summer schedules?
So - wish us luck!
If you're a mom out there planning ahead this summer, let me know if you goal set with your kids too!
And - before we get too far - I need your help!
I'm not sure how to plan (or if I should) chart out our days.
Should we set a time to do things each day (like what she's used to in school) or should we "wing it" since it's summer after all.
Or a combination?
I need your advice! Leave a comment and let me know your thoughts for planning a summer for kids.