Yesterday, I took a bite of a chocolate-iced long john donut for the last time - for the next 45 days I will have no sugar. I dove into the box of Little Debbies my husband left for me and Mae, and I ate both of the snack cakes inside of the package without any hesitation.
Yesterday was my last day for grabbing a handful of m&ms to get me through March. I won't be eating any freshly baked chocolate chip cookies or cinnamon rolls until Easter.
So far this morning, I am holding steady. I'm curious to see how long this lasts. I wanted to invite you all into this journey with me over the next 45 days as I fast from sugar for lent. I thought I should kick it off with why I'm doing this.

Reconciling with Fasting
I can't even say I have a love-hate relationship with fasting since most of it's centered around hate. I got introduced to the idea of fasting when I couldn't eat lunch on a Friday afternoon because I had a colonoscopy the next morning.
I'll never forget sitting at a round table with my friends in the middle of a packed high school cafeteria full of teenagers chomping down on mini pizzas and Otis Spunkmeyer cookies trying to make sure they didn't know my secret.
I said I wasn't eating because I didn't feel well - not because I'd seen blood in the toilet for years after I went poop and we were going to figure out why the next day.
Medical fasting
Although medically necessary, my first dive into fasting brought sadness and fear.
The diagnosis of cancer following it didn't help with the dread that comes each time I've needed to fast - which has been a lot over the past 17 years of cancer survivorship thanks to yearly colonoscopies.
But - I want something more.
I cognitively understand the many benefits of fasting and I've made the choice to try it a time or two (without a medical reason). But I don't think my heart has ever truly experienced the rhythm in its fullness.
I'm reading a memoir by Reba Riley where she details what she learned from her fast. I've heard many other positive stories from other people's fasts (from food, sugar, technology, alcohol, etc.) and I am curious to experience it too.
I feel an inner pull, a deep invitation, to untangle the pain and hurt wound tightly around the idea of fasting so I can reclaim and experience the beauty of its invitation. I hope I'll find fasting to be as beautiful as the sprinkles on the cake, the icing on the donut, if I give it a chance.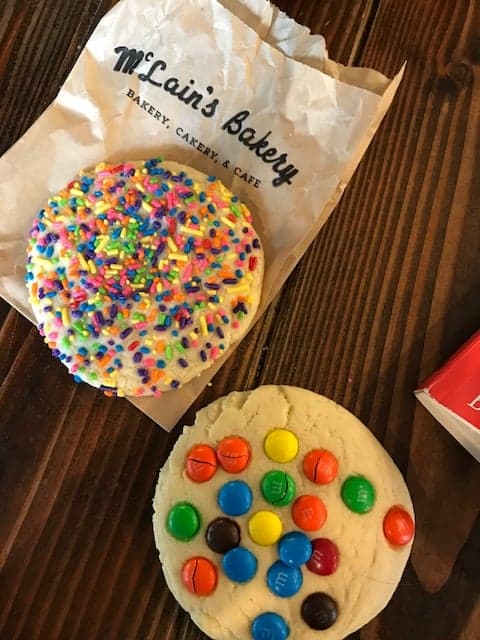 Farewell, Sugar
I'm not fasting from food for 45 days, but I am giving up one substance that I'm uncomfortable living without:  sugar.
My family's history of diabetes and the documentary Fed Up encouraged me to evaluate my relationship with sugar. Plus, I'm in the busiest 6 weeks of my year right now, and usually a big yellow bag full of colorful peanut m&ms gets me through it.
I'm not doing this alone - my gym just launched a 45-day challenge and today kicked off the season of Lent - a time where believers around the globe are giving up vices in search of peace.
So why am I doing this? What am I hoping to find?
I'm hoping to find a diamond in a mine as I enter into a rhythm of fasting from sugar.
I'm hoping to understand why I feel this pull to lay down things I love and enjoy like baking and cookies, candies and cakes.
If I'm honest, I am hoping to lose a few pounds while I'm at it.
And in this second, I am hoping my daughter doesn't come home with a bag full of Valentine's Day candy.
Tomorrow's update may look very different from today's.
--
Danielle blogs about cancer survivorship, communications and faith. Subscribe to her weekly devotional in the Monday Morning Survival Guide so you don't miss anything she has to say!