I have a confession to make:
It's the second week of December and the outside Christmas lights are not on our house yet...
... and I am OK with it.
Here's why:
I'm generally feeling lower stress this holiday season.
How?
A few ways actually.
I'm a list maker so I came up with 5 reasons I'm enjoying the holidays so far and not letting stress take over.

First Stress Beater: Distraction
Before I give off a "I live a perfect life vibe," hold up.
I've had my share of stress the past few weeks.
But it's not come in the form of gift wrapping and holiday traditions...
... I've been teaching a child to not lie and steal.
... And disciplining for poor choices.
... And communicating frequently with the teacher.
Can I be honest?
Age 7 has been hard so far, friends.  Not everything around here is Instagrammed.
The emotional and mental demands of being a parent have been high the past few weeks.
If I focus on how hard and disappointing it's been:
I easily get depressed.
But if I stop to look at how it's put things into perspective, I can see at least one positive:
Parenting my child has totally overshadowed my normal stress-filled, cramped-packed holiday to-do list and distracted me.
But there's more.

Second Stress Beater:  Permission to be Different
Admittedly, I'm dishing out life lessons left and right lately.
I am constantly pushing and pursuing a mindset of acceptance and grace.
But it's a good thing. Let me tell you why:
As I tell my daughter it's OK to be different, I have to stop and think:
Do I believe that for myself?
Like really?
Do I believe I am a good mom even if she's not singing in a Christmas program or if I haven't bought her a holiday dress?
Am I still valuable if I don't maintain dozens of holidays traditions? If I'm not caroling at my neighbors houses?
Of course the answer is yes.
But here's the kicker:
I don't always know the answer is yes.
Fear, doubt and insecurity are not foreign enemies to me, they're often longtime friends.
They don't like me to know it's OK to be different... even during the holidays.
But if I look myself in the mirror (for reals - positive self-talk in the mirror is a good thing) and say to myself:
Danielle, you can be different. You are a good mom. A good wife. A good friend. You are loved. You've got this - just be yourself.
I feel a lot better.
Know what else makes me feel better?
Cookies.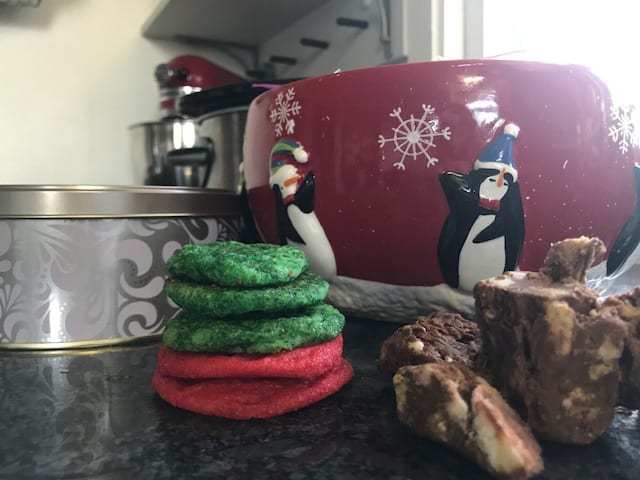 Third Stress Beater:  Baking Cookies for the Holidays
Out of all of the traditions out there, this is probably my favorite.
I know, you're probably not surprised.
Did my blogs on chocolate chip cookies and cinnamon rolls give it away?
I love baking.
Why do I mention this?
Because it's something I can do for the holidays that I actually enjoy.
Cutting down our own Christmas tree? Don't love it so we don't do it.
Messing with Christmas cards? Would rather paint the house these days.
But that doesn't make me a bad person or horrible mom.
Know what I think?
It makes me human.
And in my humanity, I can either get grumpy, stressed and tired trying to do it all.
Or, I can put in boundaries and focus on what what brings me and my family life.
(Need help on boundaries? Dr. Cloud has a free download "Boundaries for the Holidays")
Speaking of boundaries...

Forth Stress Beater: Paying Cash for (most) Christmas Gifts
I don't want to mislead you.
A few weeks ago, I was totally feeling the stress come on.
I was getting swallowed up in a sea full of creatures like medical bills and property taxes. Adding holiday gifts to the equation nearly drowned my calmness out.
But, a thought came along that brought me peace. It was this:
Pay cash for Christmas.
Instantly my heart rate calmed.
It wasn't going to be easy, I like to shop online and hate errands.
But something about the calmness drew me in. I quickly turned into a female Dave Ramsey.
Not because I have a ton of cash sitting around. But because I did have some, and that had to be enough for this year.
I felt deeply challenged to give based on what I have, and not what I hope to receive.
Easier said than done, right?
It took a few big gulps to swallow my pride.
Because it's meant scaling back. Being creative. Cutting costs.
Accepting generosity.
Leaving my house to go to the store.
I feel so counter cultural. I went to actual stores on Cyber Monday and paid cash.

— Danielle Burgess (@DanielleisB) November 28, 2017
But you know what?
After I got over myself and my pride, I felt a lot more joyful.
I'm excited to give gifts this month.
I'm excited I won't face a monstrous credit card bill next month. This is how you face Christmas with no money (or very little).
And this makes me happy.
Hold up -- did I just say happy?
Yes, yes I did.
Fifth Stress Beater:  The Reason We Celebrate the Season
There's a song from my childhood, Super Duper Christmas, now stuck in my head.
I guarantee my mom is singing it right now too as she reads this.
"Jesus is the reason we celebrate the season, Christmas is the birth of our king..."
But in the spirit of honesty...
Despite my upbringing...
... I often lose sight there's a reason for this season.
A good reason.
I mean an amazing reason.
The whole point of the holidays, specifically Christmas, is there's hope we don't have to live in darkness anymore.
We don't have to be stressed.
We don't have to be grumpy.
We don't have to swim in debt.
We don't have to be depressed.
We don't have to impress anybody.
The hope in this world that overpowers all that gunk - his name is Jesus.
He is amazing.
Full of love. Full of peace.
He would never make headlines for doing bad things.
He is the best guy there ever was, and ever will be.
He mysteriously is still living, and his spirit lives in me.
And I believe in him. It's that simple.
So what does all of that have to do with a stressed-out holiday season?
Well, everything or nothing.
That's where I had to made my choice:
Take on the pressure to do things perfect and traditional. Which leads to:
me being stressed out during the holidays.
Or,
believe in what this season is all about...
... and actually beat stress and enjoy the holidays.