It was almost 9 p.m. on Giving Tuesday, the day Fight CRC kicked off their end of year giving campaign, and I checked my phone - a message posted inside of a private Facebook group caught my attention.
"We're so close to hitting $20,000!"
I'd spent weeks leading up to Nov. 27 helping Fight CRC plan the end of year giving campaign. As a team, we  wrote emails and social posts, created mailing lists and designed graphics. For a day known for open wallets and generous donations for nonprofits, we didn't want to miss out.
$1,726 to go
I stared at the update and realized we only had $1,726 to go until we hit a $20,000 milestone, and I knew we needed a final push. One more email would let our followers know we were so close to reaching a big goal, we needed their help.
After texting with Michell who leads partnerships and development at Fight CRC, we decided to send a short and sweet message full of authenticity and transparency. It basically said (with a little added eloquence):
We're close to our goal, we need you. If you helped already, thank you! If you didn't, there's still time. Let's do this together.
Email title
We titled the email using a number, knowing that numbers in SEO content writing grab attention - we hoped people would open the email.
Email results
Know what happened after we sent the message hitting inboxes at 10 p.m. ET (7pm PT)?
8% opened the email
70 people opted out
1.4% clicked on the email
WE HIT THE GOAL.

Balancing the numbers with people
As a communications professional, I've spent the past decade learning how to use (and embrace) numbers for evaluation. Personally, I'm a words girl, but I've learned numbers matter too. A lot.
In communications, open rates, bounce rates, impressions and engagements aren't simply buzzwords, many times they're the only numbers we've got to show that the work we're doing behind keyboard matters.
Numbers help tell a story - people saw what we did, liked it, and responded.
But, as a communications pro, I also know numbers don't tell the whole story, and it's really hard to showcase impact through a vague measurement like impressions and open rate.
I was reminded of this the other night.
The 1.4% of an end of year giving campaign
Most email marketing experts would tell you a 1.4% open rate is dismal; and 70 people opting-out from an email is not a good performance indicator. By many performance measures, this would not be a good sign for an end of year giving campaign.
If I was only looking at the numbers, I would say that's right - and the strategy should change.  But, when I dove in, I saw something more:
Two-way conversation
70 people are bothered by the emails and invested their time to share that with us. Now, I'm not sending emails to people who don't want them - which makes me feel better about our relationship. It just became a two-way street. (And it helped us clean the list.)
Past the milestone
Only 1.4% of people opened and responded, but that made up 37 people who ended up donating $2,790 - pushing us way past the milestone goal of our end of year giving campaign that night.
37 people
Out of those 37 people, many of them were long-time supporters of the organization who responded to the last-minute plea for help as we kicked off the end of year giving campaign.
I know several of them personally, and most of them have lost a loved one to colorectal cancer. They were giving out of the hope people in the future won't mourn the loss of loved ones like they do.
Some of the other names I recognized were fellow cancer survivors. Like me, they joined the organization to pay it forward and find a purpose in their pain. They realized making a donation is part of the collective effort to actually cure the disease.
They too wanted to help.
To see 37 people respond out of a list of well over 33,000 doesn't seem significant until you put a name to a click and remember the face behind it.
And then, 37 people make all the difference.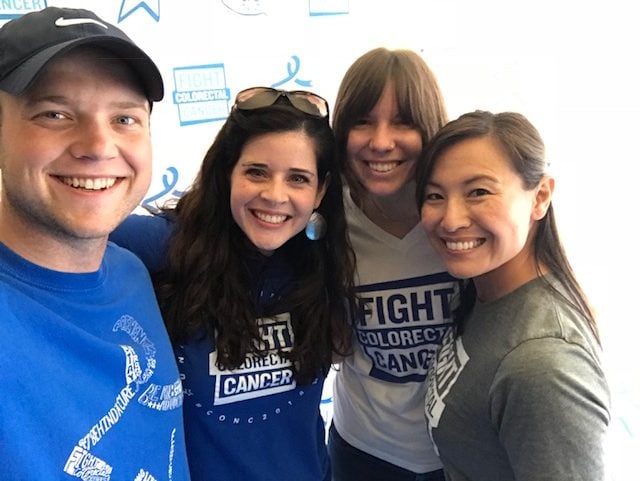 Numbers equal stories in any communications campaign
I don't think it's possible or wise to avoid the numbers game all together.
At the end of the day, we need to evaluate and track what we do if we're in communications. It's good stewardship and record-keeping, and I'm all for that.
Higher numbers - whether it's impressions, donations or click-thru rates - do tell a story.
But they don't share the whole story, in fact, each number is simply a lead to something much greater and bigger.
Behind each number is a human being with a powerful story - a story so profound that if only one person was to hear it, it could change their life.
--