Fourth of July was my favorite holiday as a kid. Thanks to a couple of Sunday school teachers who upset a lot of parents one morning, I found out that Santa was a fictional character around age 5. The truth of the Easter Bunny soon followed, along with the Tooth Fairy.
The 4th of July had no secrets about it. There were no gifts to buy. It was a time for friends and family to hang out and eat good food.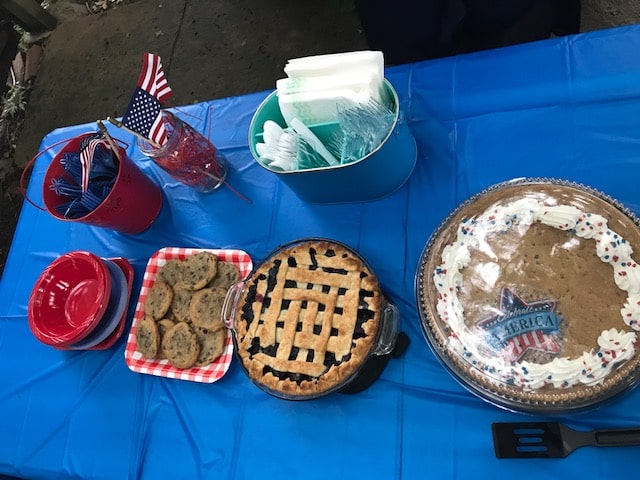 Something about patriotism was fun, it was one of the first tastes of being part of something bigger than yourself. I'd blast "God Bless the USA" on my tape deck stereo each year and wore some sort of red, white and blue tank top. I challenged myself to make the Jell-O desserts advertised on TV. I loved watching a big fireworks show.
My favorite 4th of July memory, and one of my favorite memories all together from when I was on chemo, is when I got the "all clear" to go out on the lake with my friends and watch fireworks. I couldn't swim in the lake water – too many germs. I applied sunscreen so thick I looked like a walking, melting Popsicle so I wouldn't burn. But it was a rare night in the midst of those seven months I felt like a teenager again.
Freedom rang loudly that night.
Even now, each year as the 4th approaches, I still get a little giddy. I start craving watermelon and a grilled hotdog. Fond memories flood in. It's my mother-in-law's birthday, so there's always a celebration in the works. I've added a few new traditions too – I make pie and we spend around $50 or so and buy our own fireworks.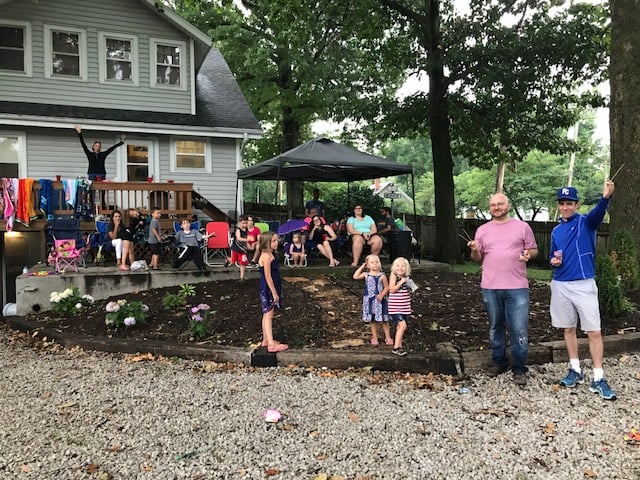 Home of the Not-So-Brave
My daughter is funny because she loves scary stories and movies like Jurassic Park yet freaks out over bugs and the idea of fire. She's never loved fireworks in the sky, but this year I thought since she's a little older, she might give fireworks another try.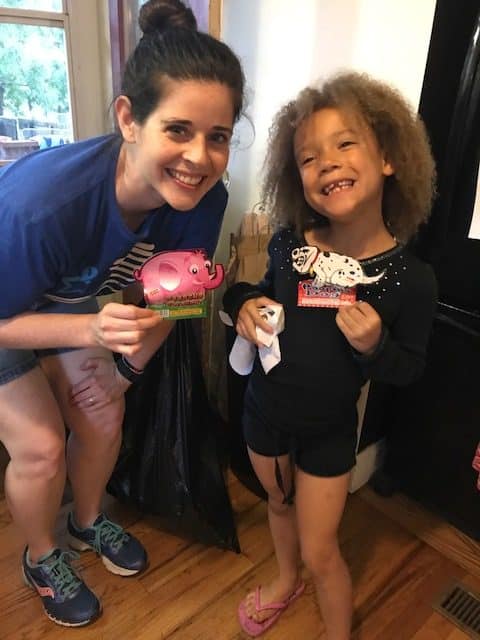 We bought some for our backyard so she could experience holding, lighting and watching them explode. The idea of giving her control, I thought, would sit well with her.
I thought wrong.
Our friends even brought extra-long sparklers which I thought would go over well and she'd join in the fun alongside her friends and draw pictures and letters in the sky. But once her sparkler lit, she gave it about three seconds. A nervous panic broke out. You would have thought spiders crawled up her leg or I asked her to kiss a boy.
I came along beside her in an "I'm-teaching-you-how-to-mini-golf" stance and tried to show her how it was done. It calmed the anxiety for a moment, but she still wasn't having it and began to cry. Then, she gave up all together and went inside.
I soon found myself alone. In the dark. With an extra-long sparkler in my hand.
So much of me wanted to stop and give her a pep talk on being fearless and brave. I wanted her to have this full-circle moment on the 4th of July where she put two-and-two together and channeled her inner courage like the men and women who fought for our freedom, and rose to the occasion to hold a flaming fire stick in her hand. I wanted her to feel the power of unity on the 4th of July and come together in our backyard for the sake of all things brotherhood.
I wanted her to be brave, face her fears, and hold the firework!
Then I came back to reality. I was standing alone in my dark backyard holding an extra-long sparkler in my hand. I had to accept that while the 4th may be a favorite holiday for me, it might not be for her. I realized it's taken me over 30 years to understand why 4th of July means so much both to me and our country.
And while I might have celebrating the 4th of July in the bag – I've still got so much to learn in parenting.