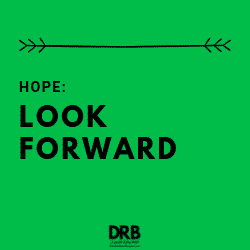 "Find something you can look forward to - something in the future that gets you excited - and plan on it."
I've offered this advice for more than 18 years. It's usually what I say to people when they ask how I made it through colon cancer as a teenager and other hard times.
Out of everything I encourage people to do when crisis hits, I encourage them to hope. Why?
Choosing to hope is extremely powerful.
Finding hope
Hope starts small, and it snowballs.
It starts with believing the next minute can get better. And then, it grows.
Eventually, hope eternal believes all things will work out for good. It says one day, no more death, pain and suffering will scroll across our screens.
That's the kind of hope I long for, and the hope that's transformed my life.
How to hope in God
Hope eternal is hope in God.
It's the kind of hope that doesn't expect the grass to be greener on the other side, but for the ground below us to eventually freshen up.
David, the author of Psalms, said this about hope:
"We put our hope in the Lord. He is our help and our shield. In him our hearts rejoice, for we trust in his holy name. Let your unfailing love surround us Lord, for our hope is in you alone (Psalm 33:20-22, NLT).
Why hope in God?
We hope in God because God invented hope. God is good, and God promises good.
There's nothing bad or dark about Him.
What to do if I want to hope in God?
We expect God to show up - in everything. And, we ask for His help.
It's that simple.
Putting our hope in God looks like talking to Him the minute we feel the dark cloud hit us.
It looks like trusting God, not blaming God, when our bodies ache and our relationships break.
Instead of giving up and complaining, hope says keep going.
"Look forward," hope says. Trust in a beautiful horizon.
Hope means if today sucks, tomorrow can be better.
It means if tomorrow sucks too, the day after still carries a promise to improve.
Hope doesn't mean tough situations will disappear and we will get our way.
But hope does mean we're not alone. God hears us. And one day, all of our tough stuff will go away.
Prayer:  Father, I want to believe in hope. Help me fight hopelessness. Bring to mind areas where I don't expect things to get better, and remind me of your promises and love for me.