"We put our hope in the Lord. He is our help and our shield. In him our hearts rejoice, for we trust in his holy name. Let your unfailing love surround us Lord, for our hope is in you alone." (Psalm 33:20-22, NLT)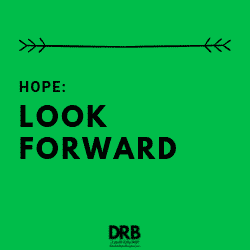 "Find something you can look forward to, something in the future that gets you excited, and plan on it."
I've offered this advice for more than 18 years. It's usually what I say to people when they ask how I made it through colon cancer as a teenager and other hard times. Out of everything I encourage people to do when crisis hits, I encourage them to hope. Why?
Choosing to hope is extremely powerful.
Hope starts small and it snowballs. It starts with believing the next minute can get better. And then, it grows. Eventually, hope eternal believes all things will work out for good. It says one day, there will be no more death, pain and suffering scrolling across our screens. No more cancer. No more virus. No more disagreements. No more suffering.
That's the kind of world I long for, and believing, hoping, that it's coming has transformed my life.
There are many things to hope in—a special event. Weight loss. Harvesting the garden. And these are all great things. But there's one type of hope, hope eternal, that is everlasting. This means that when we obtain what we hope for, it will never end. The special moment will live on forever. This type of hope comes from God alone. 
God invented hope. He's the creator of this whole idea—things will get better. Goodness is on the horizon. Because God is good and He always makes good on His promises, we can expect Him to show up... in everything. Putting our hope in God looks like choosing to trust when our bodies ache and our relationships break. It means that instead of complaining or taking on a victim mentality, we keep going. 
"Look forward," hope says. Trust in a beautiful horizon.
Prayer
Father, I want to believe in hope. Help me fight hopelessness. Bring to mind areas where I don't expect things to get better, and remind me of your promises and love for me.