Yet to all who did receive him, to those who believed in his name, he gave the right to become children of God—children born not of natural descent, nor of human decision or a husband's will, but born of God. —John 1:12-13 NIV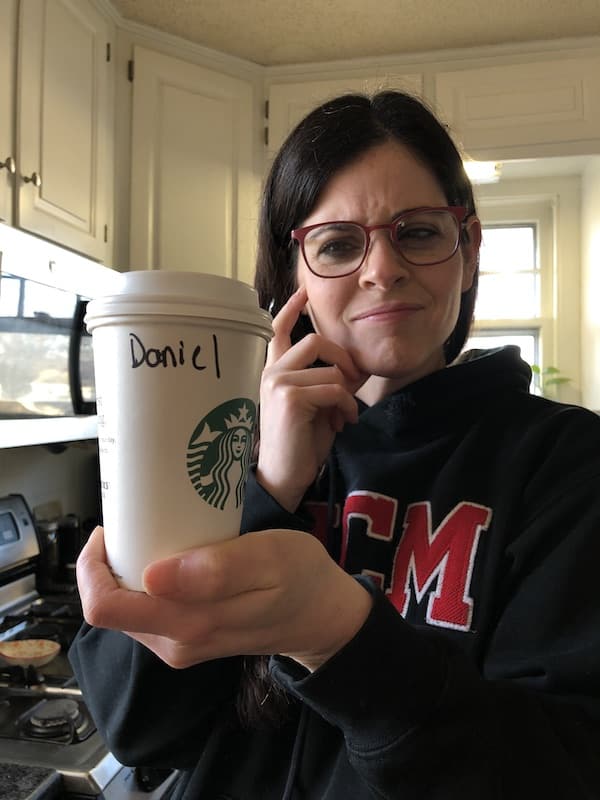 It happens all the time...
"What's your name?"
"Danielle."
... A few minutes later:
"Daniel, your order's ready."
Nowaways, I just laugh. It's actually more common for people to spell my name incorrectly versus get it right. When I was younger, it embarassed me. I hated getting confused with a boy! But not anymore. I could care less. In fact, on Mike and I's engagement cake, the decorators even got it wrong.
"Congratulations, Michael and Daniel!" the cake read.
We just broke out some icing and added the "le," unphased that it was in a different color.
This may be a silly example, but it hints at a secret to life. It's so freeing to pick up a cup with my name spelled incorrectly, smile, (even tip!) and walk away. I don't need to correct the barista in order to feel like myself. I don't need her to know me. God bless her, and not to be rude, but I don't really care what she thinks.
Why? My identity is in God. I know who He says I am. He knows how to spell my name. That's enough for me.
Like wrinkles and gray hairs, this perspective comes with age. I know it's way easier said than done, but it's possible. When we see ourselves through God's eyes, we don't need others to validate us. We can offer lots of grace when they make mistakes. We don't need to care so much what they think. 
So, "Who are you?" I'm asking myself the question. 
The more God's Word gets to answer it, the quicker we'll mature. We won't need to please everyone or expect others to define us. We will be able to deeply love regardless of what others say, do, think... or misspell.
Prayer: God, show me who I am in your eyes this week. 
Practical: Need a song to inspire this exploration? Try this one, I Know Who I Am.
GET ALL THE STORIES
Stay in the loop and get notified about Danielle's latest blogs and projects.