Over the weekend, I attended two funerals in two days. As I've been processing these losses, and searching for a survival tip for today, a simple thought came to my mind:  be present. Our presence to one another is a great gift we can offer to show support.
Goodbye, Eva
The first funeral I attended was for my "pretend grandma," Grandma Eva. With both of my grandparents living more than two hours away, Eva swooped in and became "grandma" for most of my life. (Although she was technically a distant relative).
My mom tells me Eva was one of the first visitors at the hospital after I was born. She was a great babysitter and gave some of the best birthday gifts throughout my life.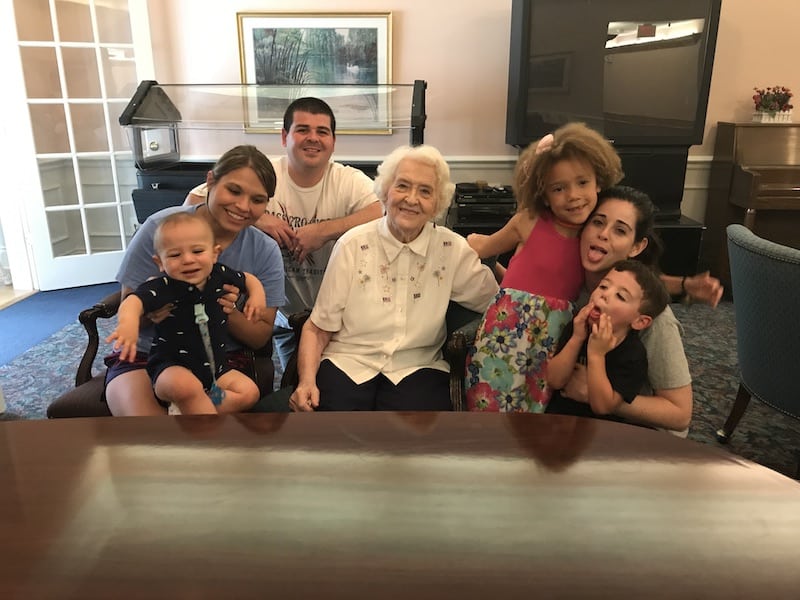 Thanks to Eva, I learned how to play Skip-Bo and swing on a tire. I learned the significance of a Purple Heart from her husband Roy and what it felt like to have someone sew you custom dresses. I learned that technology keeps you young; once computers came out, Eva got one and started making homemade cards with clipart.
She drove a bright red Neon with cow-print seat covers in her 70s and 80s. She wore makeup and did her hair every day. She played such a big role in our lives, both my brother and I recognized her as a grandparent in our weddings.
Out of all of the things Eva gave me, the eye-opening experience of volunteering at St. Vincent's in Kansas City, now called Operation Breakthrough, is probably the most significant. My introduction to many dark-skinned kids through her role there put me face-to-face with diversity. This, in addition to her collection of glass figurines featuring African American children, planted seeds of racial equality deep inside of my heart. I have no doubt those seeds led to our mixed-race family today.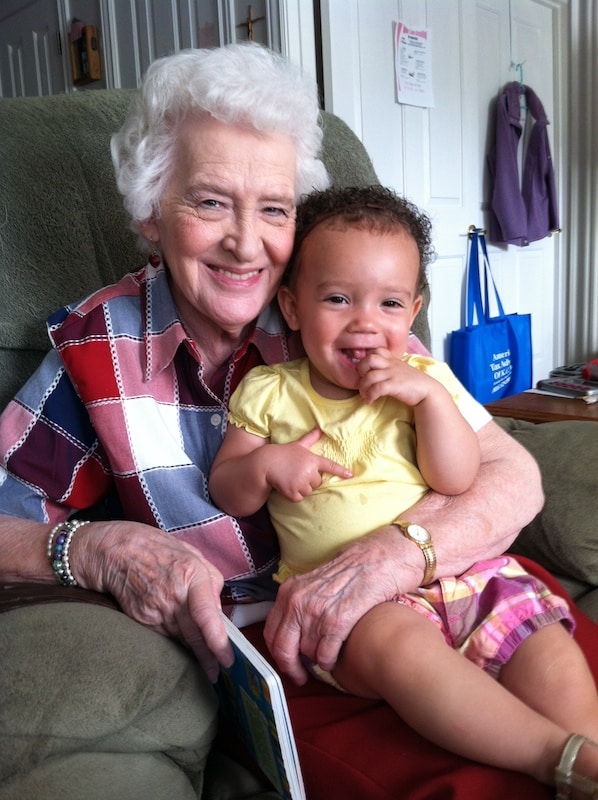 Goodbye, Lori
The day following Eva's service, I attended a funeral for my Nurse Lori. Unlike Eva who passed away in her 90s, Lori's life felt like it was cut short. She was just a few years into her 60s. Tears flowed down faces during her packed-out service as friends and family fondly remembered her. My memories of Lori fell right in line with theirs, she was a special lady who had an unmatched gift of compassion. I was fortunate to have been in her care.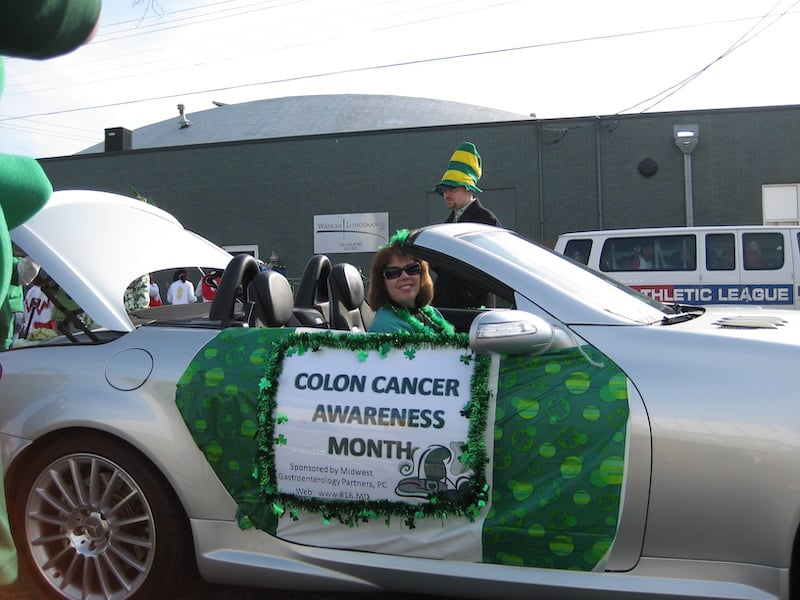 I first met Lori the morning I went in for my first colonoscopy. As a scared teen trying to act tough, she quickly put me at ease when she told me her daughter was Keely, a friend from high school. She had a big smile that made me feel calm, and she reassured me that I'd be OK. She stood right by my side until I drifted off to sleep with the anesthesia.
Apparently, I had been so excited to meet her, I couldn't stop repeating that I'd met her upon waking up. It became comic relief to a heavy day, that colonoscopy had found my tumor. And while the subsequent colonoscopies I needed for every year following that day could have sparked trauma and fear, when Lori walked into the room, I felt at ease.
She carried a presence I know many of her friends, family and other patients will forever miss. I'm sad brain cancer took her away, what I feel, too soon.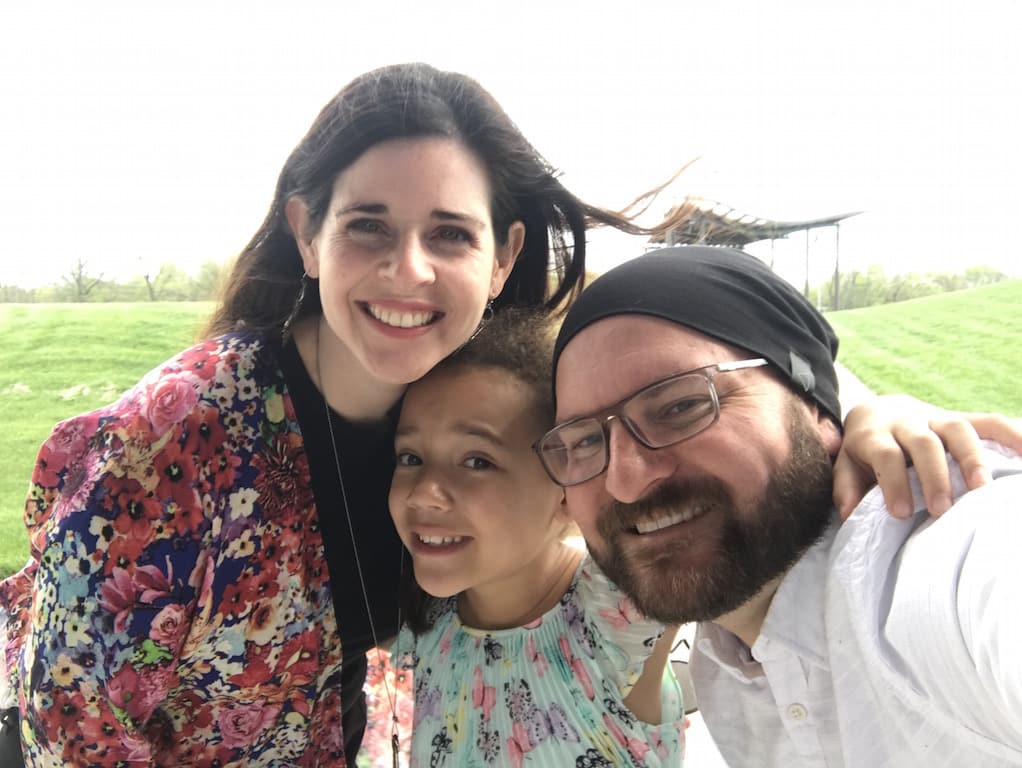 The power of presence
It was an interesting weekend that carried a lot of reflection and some sadness. There's nothing quite like death and grief that makes you stop, think and evaluate things. And out of the many thoughts and feelings I've felt, on a positive note, I've remembered the power of presence.
It matters when we show up.
Eva spent hours with me during my childhood, and those hours equated to passions and pursuits as an adult. Nurse Lori offered me attention, held my hand and stood by my side in some of the scariest moments of my life.
These ladies gave themselves, and they made time for me. Their presence took me from solo to supported, from scared to secure, and I carry their legacies with me each day in a small way.
Showing up
In a digital world, it's getting harder to value one another's presence. We're often too busy for one another, or we doubt that reaching out and connecting really matters. We excuse ourselves because we don't know what to say, how to act or what to do. We convince ourselves that we're not needed, and what we've said in the past will hold.
Yet there's nothing quite like offering someone our presence, and even as technology advances, I don't think anything will ever replace it. Few things are as powerful as simply showing up for one another, and especially in tough times. Being there matters.
If someone you love is hurting or sick, what can you do to show them support? You can be present. It may look like a "thinking of you" text or email at first. It may come in the form of sending flowers and gifts to start. But eventually, that person is going to need some face-to-face encouragement. And perhaps, the person who can provide it, is you.
--
Danielle blogs about cancer survivorship, communications and faith. Subscribe to the weekly Monday Morning Survival Guide!