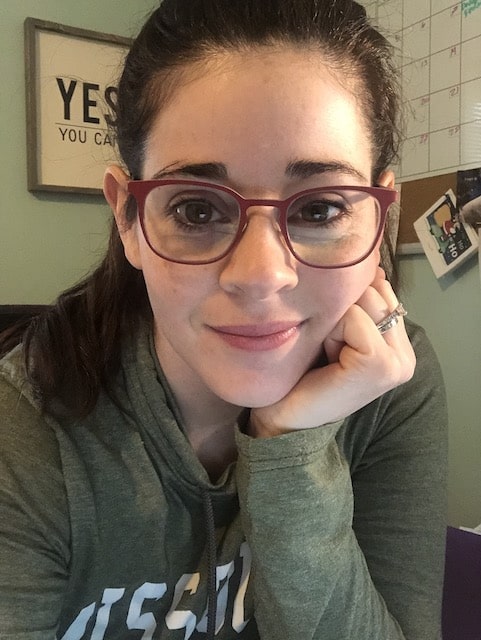 If you were to ask me, "How are you doing?" I'd probably smile and say I'm good. I'd likely mention the juggle many other working parents are experiencing—the one incorporating homeschooling into my already-full work day.
But today as I woke up, quite a bit later than usual (but not a surprise since I've worked until midnight the past few evenings), I asked myself that question. How am I doing? I wasn't sure how to answer.
I tried to lie still and not let the ocean of anxious thoughts and to-dos sweep me away, but in that very short pause, I realized I needed to do something. An outlet. The answer came quickly: my blog.
Back in the "olden days," as Mae likes to call them, I blogged a lot more like this. I'd post my garbled thoughts and feelings on the internet for anyone and everyone to read. I've gotten away from that practice for a few reasons.
I reserve some of that writing for journals. I don't want to offend those close to me who may find out something about us online and not personally. Making time is a real issue, I often struggle to return a quick text right now much less write a blog. And, I wear a lot of hats. When you work in the public relations field, it can be difficult to know just how transparent to get. As an author about to launch a book, I'm really mindful of what messages I'm sharing. I want to be positive, hopeful and encouraging yet also be vulnerable and real. This stuff is easy to say—hard to do. 
But today, I'm pushing all of these barriers aside because I desperately need this. My mind needs it. My soul needs it. If what I've discerned my calling and purpose here on earth to be, my readers probably need me to write too.
Writing helps me regain some sense of control, which is important to my mental health. I can't control that restaurants are closed down and graduations are getting cancelled. I can't control that my daughter won't return to school again this year. I can't control the economy. The church. The racist people. The hateful people. The politicians.
But, I can control what and when I write.
So—how am I doing today, really? I'm tired. Tired in every way. I've not let myself ponder what an extended Stay at Home order looks like for us. Although I wrote to fellow working moms and told you to not feel guilty for working when your kid is at home, and to take care of your own health, I'm finding this advice to be hard and challenging. Of course I wish I could drop everything and give 100% of my attention to my daughter, but that's not reality. I'm learning to balance and forgetting to breathe. But, I'm trying.
I could probably write much more today, but my phone is blowing up with messages and I should probably check my email. Mae's sleeping late, and I need to take advantage of it. I'm excited for our dinner plans tonight—Curbside. Come to think of it, there's a lot of really cool, beautiful things that have come from this quarantine experience in spite of the challenges. Maybe if I blog more, those will come out too. 
I sort of feel like I'm in the book The Hatchet or on the set of Castaway. Stranded and surviving, the days are getting long and the path ahead feels unclear. Yet I hope to follow something the survivalists do—track their time.
Whether it's lines with an axe against a tree, a pile of stones, or journal scribbles, most successful people who once found themselves stranded, lost or wandering tracked their journey in some way.
I didn't do much on Day 1 of our Stay at Home other than take note of the date. But now at 30 days in, I think it's time I start carving my own metaphoric lines into the tree trunk, so to say. So here's me—blogging. It's Day 31.