Surviving Colon Cancer at Age 17
I spotted blood in the stool for many years, if memory serves me well, I started seeing it in 8th grade just before I finished junior high.
It started out bright red, and I assumed it was no big deal. But it kept coming, so I reasoned with myself. "Maybe it's catsup. Or Twizzlers. Or tomatoes." I put myself on a "no red foods" diet and hoped that would take care of my problem.
It did - for a few days. And then, the red came back.
But, I didn't say anything. It was too embarrassing. I could barely walk onto the volleyball court wearing my tight, spandex shorts - I was so modest, anxious and embarrassed about my body. The last thing I wanted to do was share about what happened when I pooped.
So, I didn't. I didn't say a word to anyone for a really, really long time.
Assuming hemmorhoids
The red kept coming and I finally accepted it was blood. Eventually, it turned a little darker. It also appeared more and more. When it first started, it didn't seem like a big deal. But one day, I found myself several years into high school, and this "little problem" just wouldn't go away.
So, I stepped out and asked my mom to do online research and finally disclosed, "There's a little blood when I go 'number two.'" 
A few days and online searches later, we arrived at a conclusion:  it must be hemorrhoids.
All of the websites indicated someone my age with this "little problem" must be experiencing a minor tear or something else small "down there" like a hemorrhoid. That was the answer I wanted. I felt extremely relieved.
My mom did mention the websites said blood in the stool could mean something more serious, but it happened to people Grandma and Grandpa's age. 
"What a relief," I thought to myself as I headed back upstairs to my bedroom.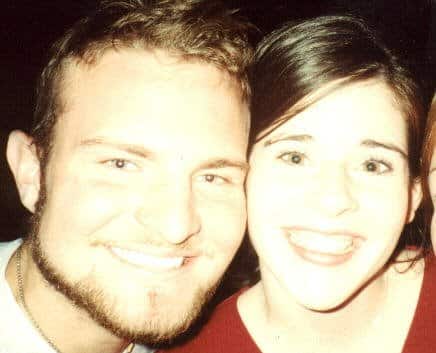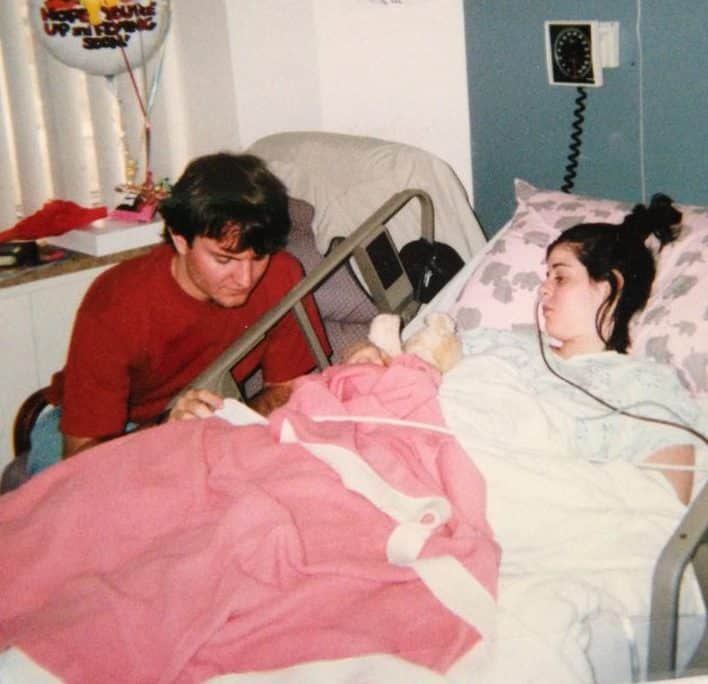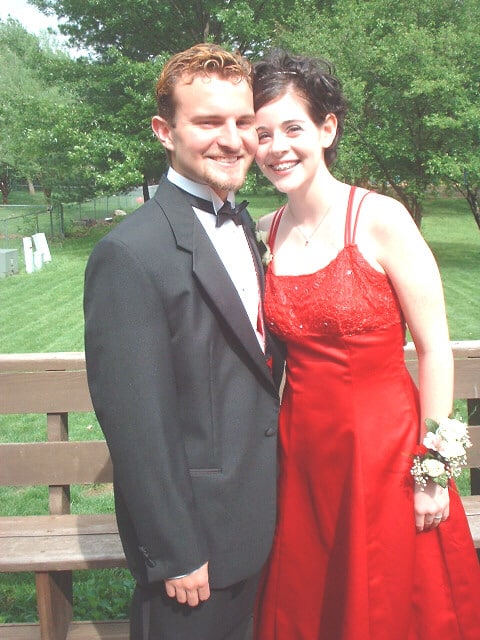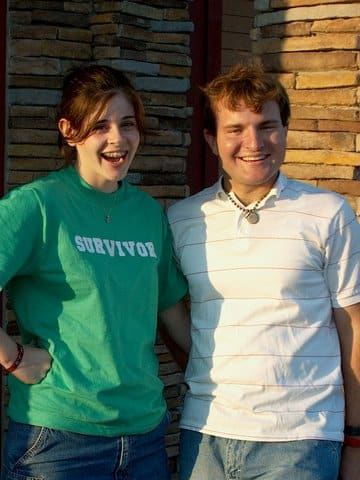 From red to black blood
The blood kept coming, but it was as regular as my best friend. I saw it daily, and after awhile, it didn't phase me. In fact, I was surprised if I'd use the restroom and not see it. 
But one day, something changed.
I thought I had to pass gas while I was chatting on the computer via AIM with my boyfriend Mike after school. I was a junior in high school, and he had gone off to college. We talked every day. But this day, things were different. 
I passed the gas, but soon realized it wasn't just gas - I had passed a good amount of dark red blood. 
I was so freaked out, and grossed out, to say the least.
I changed my clothes as quickly as possible and hopped back online, picking up the chat with Mike like nothing had ever happened. But I was shaken to the core, and I began to worry.
A few weeks after the incident, I found the courage to say something to Mike. "I think I need to see a doctor, something's not right with me." 
I didn't tell him what was wrong, and I still hadn't disclosed to my parents how bad things were. I wasn't actually ready to see a doctor. But soon, the blood began to get worse, going from dark red to sometimes even black. And then, intense stomach pains appeared. 
Stomach pains
The first time they came, I assumed the ramen noodle salad at Christmas dinner was backfiring. I started chugging Maalox and told myself it helped, but the stomach pains continued. It felt like a little man holding scissors was stuck inside of my stomach, swirling them around trying to get out.
I was in a lot of pain, but the discomfort would come and go. I still wasn't ready to say anything, and I could bear it.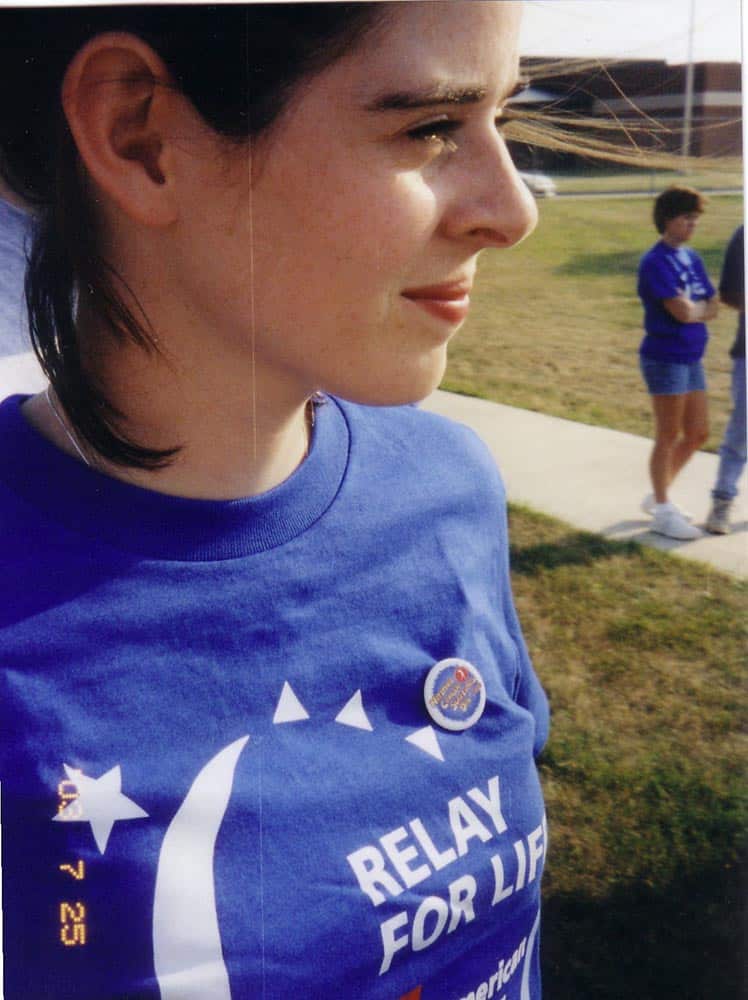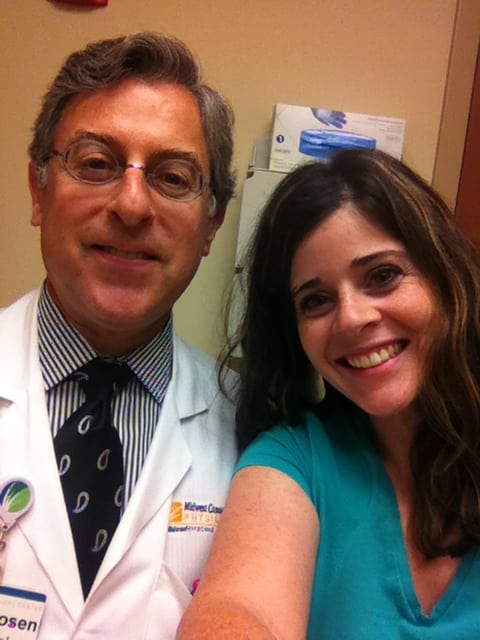 Speaking up and getting busted
Just after Christmas break, a week or two into January, Mike began pestering me to see a doctor. My mom overheard his comments, which triggered her response. "Are you still having problems from that issue you told me about awhile ago?" 
Ahhh… busted.
From that moment on, things moved very quickly. My dad found out. Doctors were called. I was rushed to Dr. Marc Taormina, my GI who did an in-office rectal exam (not fun, especially as a teenage girl). He said I needed a colonoscopy ASAP. We scheduled it for the following Saturday morning so I didn't miss school.
I felt like I'd just gotten in major trouble for bleeding out my butt. 
But after the colonoscopy, I began to understand the mad dash to the doctor.  Dr. Taormina found a large tumor in my colon and a few days later on January 23, 2001, it was confirmed I had cancer. I had just turned 17 a few weeks prior. 
Diagnosed stage 3 colon cancer
Suddenly, my days of high school theatre, algebra and pre-IB history turned into colon talk, cancer hospitals and itchy, scratchy (and dare I say ugly) hospital gowns.
I quickly had colon resection surgery to remove the tumor and then pathology came back telling us it was in my lymph nodes - stage III. I got a port put into my chest so I could start chemo. We flew to Houston to get a second opinion from M.D. Anderson. Everywhere I went, I heard the same thing.
"You are SO young - we've never seen colon cancer in a teenager before."
I felt like a unicorn in the oncology ward.
I eventually started treatment - a FOLFIRI chemo cocktail. I'd never been so sick - it was worse than the flu. I puked for days after the infusions. My mouth hurt, and I could taste medicine in my spit. 
I had another surgery to suspended my ovaries into my abdomen. We learned after the surgery was over, it made me surgically sterile and I wouldn't be able to have kids naturally, or without any help. But, it was done to save the hormones in my ovaries from the radiation that was about to begin. And as the doctors tried to gently put it to my parents inquiring about fertility preservation, "We've got to focus on saving her life right now, we can't delay this and focus on future lives." 
So, after that operation, my dad drove me to a hospital where I got radiated for 30 days. I found it strange the nurses led me behind a big, thick door with "danger" symbols all over it - only to have me lie on a table inside of the "dangerous" room while a big machine shot red lasers into my rear.
I didn't realize then what I know now - over 18 years later - they were doing this because my life was on the line. I went through the most aggressive treatment possible because stage III colon cancer didn't happen to 17 year olds. Yet, it had just happened to me. 
In treatment, I was tired, sunburned, skinny and weak. But, I was also a high schooler, so my friends and the hope of returning to school and a "normal" life kept me going. 
I went on homebound and kept up with assignments. I continued to date my boyfriend and we even went to prom together.
And after six months of treatment, and two major surgeries, I was done.
A few weeks after my treatment ended and I was declared "no evidence of disease, or NED," I started my senior year of high school.
That year, my classmates voted to make me Courtwarming Queen. It was a nice moment that helped overshadow a horrific year.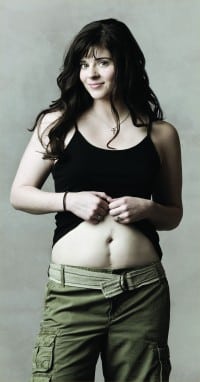 Photo credit: Mark McCarty/The Colon Club
Moving on 
With cancer behind me and the rest of my life before me, I graduated high school, went to college, made new friends, and a few years later - I married that boy whose persistence got me into the doctor and saved my life.
Joining The Colon Club
My cancer was becoming a faint thing of my past - a fluke of my teenage years. But one day in 2007, I logged online and began searching for information for colon cancer survivors. My eyes grew wide when I clicked on the top search result – The Colon Club. Once the homepage loaded, I couldn't believe it.
A picture of a girl named Erika loaded. She appeared to be my age and she had a similar scar… a long, vertical line that ran the length of her abdomen. She was a stage IV colon cancer survivor.
I'd never met someone else surviving colon cancer, much less someone in their 20s and 30s!
I scrolled through the website and found a project called "The Colondar" – a calendar of men and women diagnosed with colorectal cancer under age 50. I signed up to be notified when applications were being accepted. Once I got the notification email, I applied.
Many months later, a girl named Molly called me at work and invited me to be in the upcoming calendar. In Summer 2008, I flew to upstate New York for a photo shoot to pose as Miss October 2009.
The experience changed my life. Later down the road, it got me involved in advocacy, which led me to a staff role at Fight Colorectal Cancer. And, it introduced me to a large community I would depend on with the unexpected curve balls up ahead.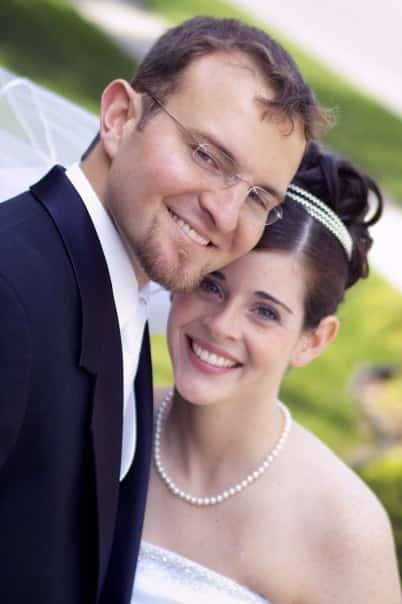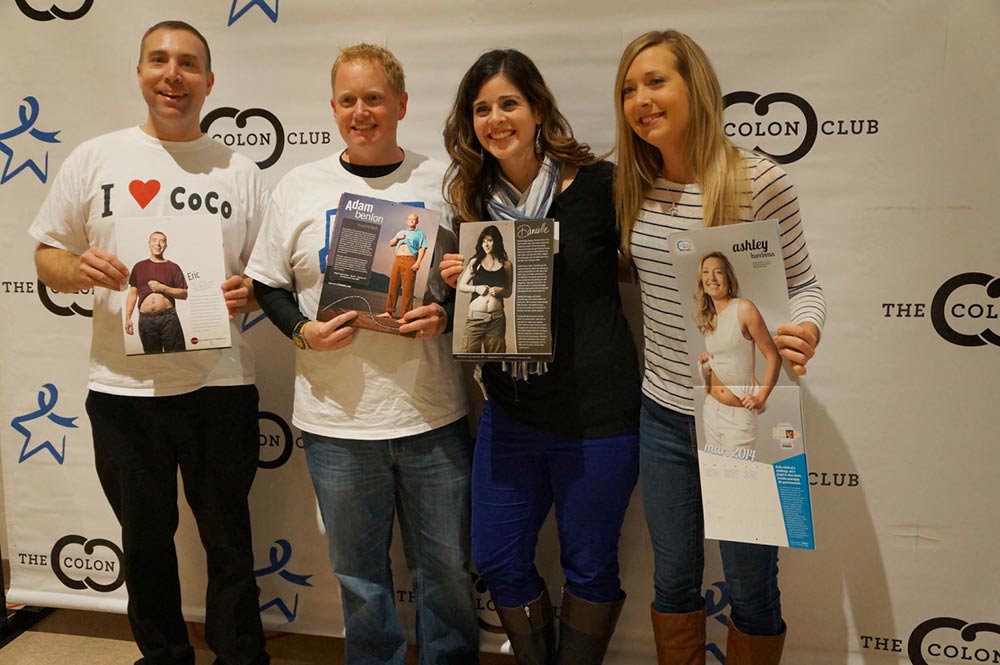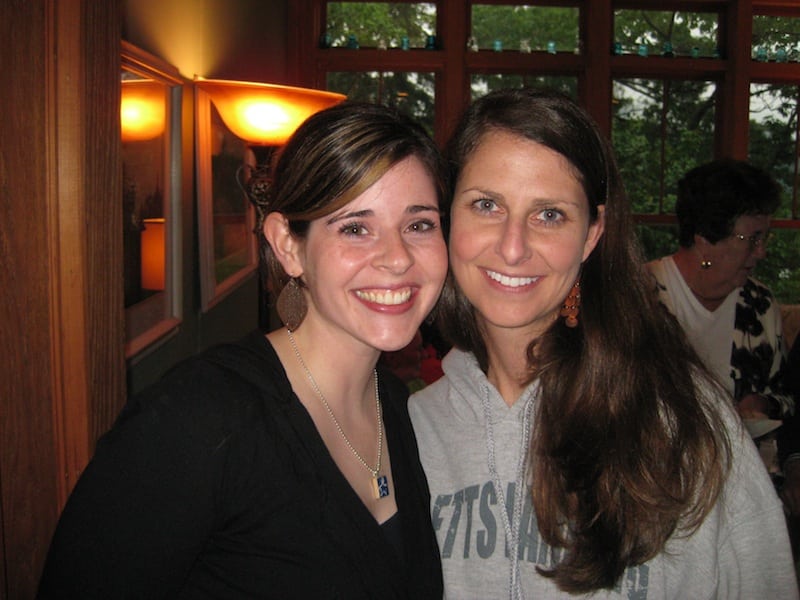 Diagnosed With Colon Cancer A Second Time
In Dec. 2008, my GI discovered a polyp during a colonoscopy that made the hairs on his arms stand up. I was getting scoped every three years; we all assumed this routine would prevent any future disease.
But the concerning polyp brought doubt and although a biopsy ruled it "non-cancerous," he wasn't convinced.
Based on my personal history of colon cancer, he recommended I undergo another surgery, a subtotal colectomy, to remove as much of my large intestine, and therefore my risk of colon cancer, as possible.
I took his advice and had the surgery, assuming it was preventive. But once I woke up, I learned it was actually life saving. Pathology came back and indicated the initial biopsy was wrong – it was stage I disease. I was surviving colon cancer… again… at age 25.
Coping With Surviving Colon Cancer Twice
The recovery after my second colon cancer was difficult physically, but it was even harder to cope emotionally and spiritually. Surviving cancer once was hard enough, but facing it a second time brought new fear and anxiety. It made me doubt and question God. It put a strain on my marriage. I resented my body for turning against me.
To cope, I leaned into my community of survivors and Christian brothers and sisters. I started seeing a counselor to work through the trauma. 
I also began a blog, Semicolon Stories that helped me capture, understand and tell my story to process it. This is how I became a blogger.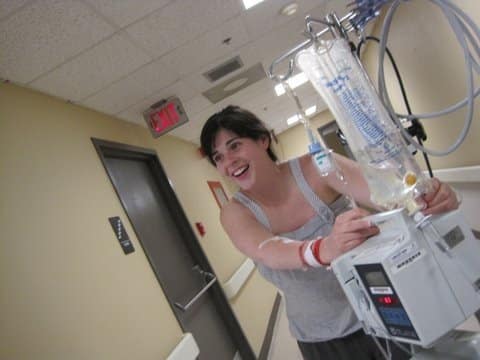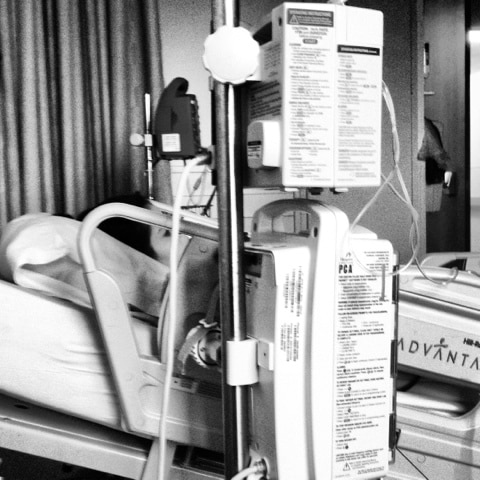 Adopting After Cancer
I struggled after my second diagnosis, not only with the cancer itself, but with infertility and closed doors. Although we knew adoption would be our path to parenthood, our initial interest in international adoption was suddenly derailed.
But after a season of healing, we decided to not give up. My oncologist wrote a note declaring I was a "healthy, suitable mother," and we began our adoption process in September 2010. Four months later, right before our profile was listed online by our agency, local friends called us about a 4-month old baby girl who, three weeks later, became our daughter.
Read our 3-week Adoption Story.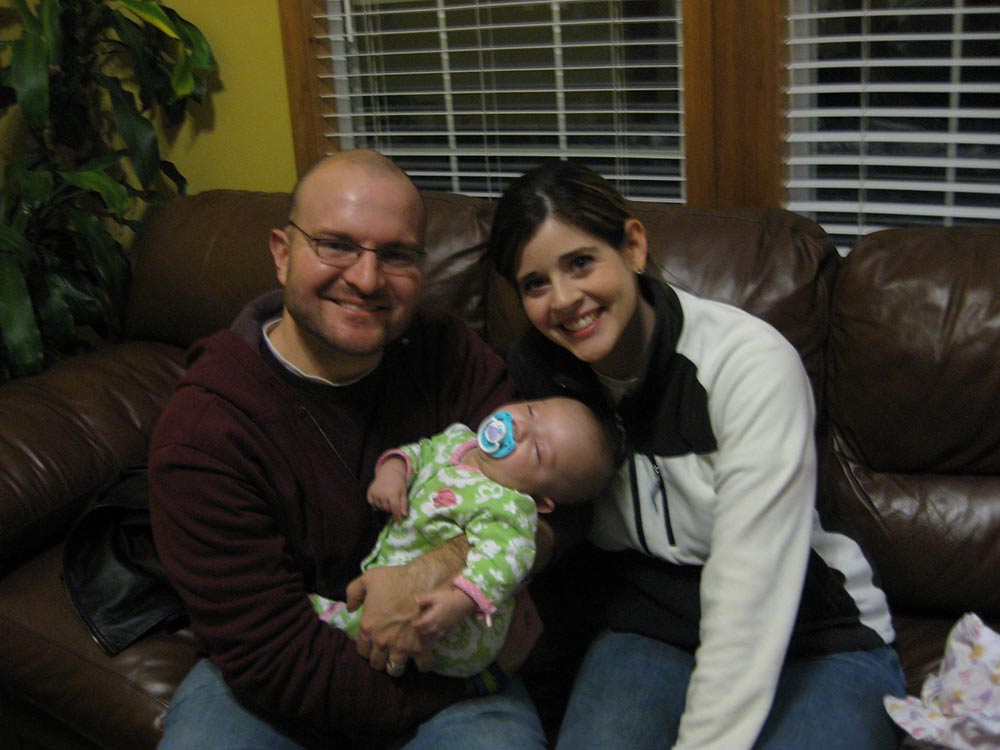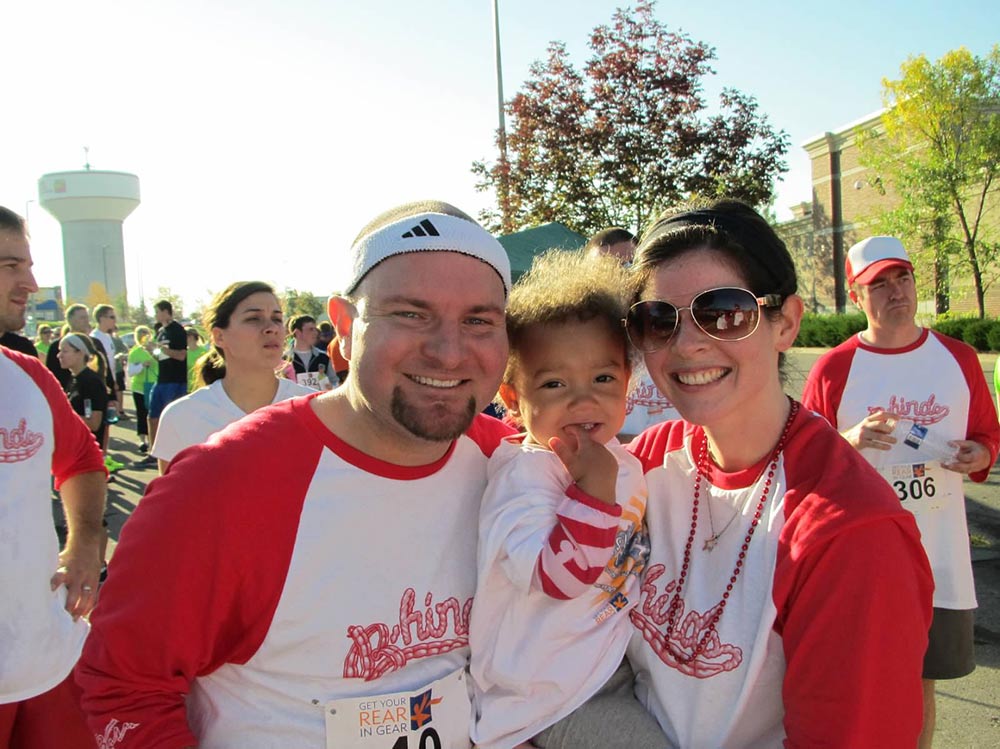 Diagnosed with Lynch Syndrome
When it rains, it pours, and in the flurry of becoming a mom and two-time colon cancer survivor, I was also deemed to carry the mutation for Lynch syndrome.
Genetic testing in 2001 and again in 2009 (after my two cancers) indicated a genetic abnormality, but the research was primitive and details unclear. But, because of my young age and the suspicious nature of my cases, doctors agreed to treat me as through I already had Lynch syndrome. This involved a total hysterectomy in 2012, yearly colonoscopies, and many other lab tests.
One day out of the blue in 2013, my geneticists contacted me to say the genetic laboratory reclassified my mutation and I do officially have Lynch syndrome. 
But, more curve balls came when neither my mom nor dad tested positive for the same gene variant.

I have an inherited genetic disease, I didn't actually inherit.
Faith can survive.
Today, I am blessed to share I'm healthy, strong and cancer-free!
Through over a decade of fighting cancer, I've experienced a lot of the physical, emotional, mental and spiritual issues that come with surviving cancer, especially as a young adult.
But through it all, my belief in God's grown strong and I've healed. I've learned my voice is very powerful, and it can be used to help others.
I'm still alive for a reason - a lot of reasons. One of them is to tell this story and let you know that even if our bodies fail us, our faith can survive.
Your turn.
Hey there, you've got this. You can survive the hard things life throws at you, too. Let's start with next Monday morning. Subscribe to my Monday morning email. I'd be honored to encourage you.