And let us not neglect our meeting together, as some people do, but encourage one another, especially now that the day of his return is drawing near. Hebrews 10:25 NLT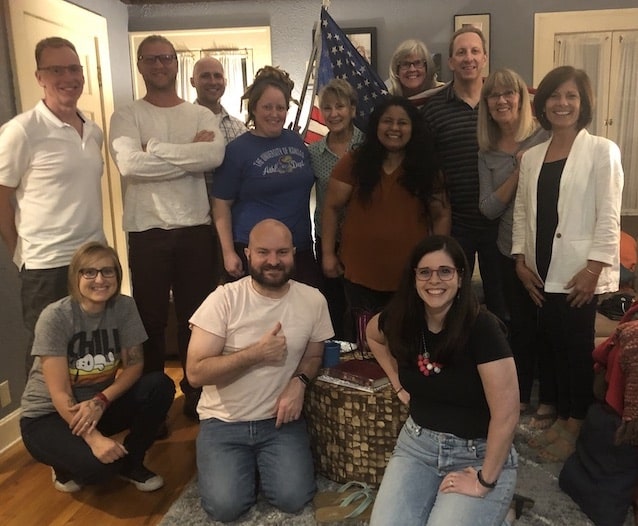 Almost two years ago, Mike and I made a commitment we didn't think we'd ever make again.
In our early 20s, we helped start a church. As the church grew, it was incredible, yet the highs and lows of ministry also wore us down. We were young and ambitious, and truth be told, we lacked boundaries and fortitude. When we sensed it was time to let go and move on, God led us to a new church family.
We were surprised when it quickly felt like home. 
About a year after plugging in, the request came: Would we lead a small group? We were hesitant to say "yes," but we knew it was right. So, together with another couple, we started a group on Tuesday nights.
It didn't take long for us to find a nickname for our gathering: the "Westside." 
The Westside started out strong and it's only gotten stronger over two years. Just about every Tuesday night, you can find us gathered (in some form or fashion) to worship and study Scripture, eat (when safe), celebrate milestones, pray for one another and/or carry each other's burdens.
We're an interesting bunch, some of us are single and others are married; our ages span from being in our 30s to our 60s. But every time we gather, it's incredible.
"How are you?" is a genuine question that often sparks honest heart-level answers. The more we do church like this, the more I'm convinced this is what the early church looked like in the New Testament.
In a year where disconnecting would have been easier to do on some weeks, our group has made a commitment to meet on Zoom, and when safe, backyards and living rooms. Most of our culture will remember 2020 as a time marred with weakness and pain, but being part of this small community has brought new strength and more healing. 
A lot of times when we're trying to survive something, we go looking inside ourselves for help. And while a thorough introspection of our hearts is critically important, we won't feel whole without other people.
For strength to come and faith to survive, we need to let others in. We can't survive hard things alone. Today I'm praying that you have (or find... or start!) a group where you feel loved and like you belong. May God lead all of us to a "Westside."
This devotional first appeared in the Monday Morning Survival Guide. Subscribe to get next Monday's devotional emailed to you!
GET ALL THE STORIES
Stay in the loop and get notified about Danielle's latest blogs and projects.