Words spoken
I am easily lured out from behind the keyboard when it comes to speaking and teaching communications worshops.
Speaking
I share so people will get screened. So girls will love their bodies. So survivors will tell their stories. And to inspire—even when our bodies fail us, our faith can survive.
You and I both know speakers can make or break an event. Let's make sure your event is awesome. If you're considering me as a speaker, here are the topics that would make me a great fit:
Survivor Life: overcoming, forgiving, friendships and support, finding acceptance
Tween/Teen Girls: puberty, body image, relationships at home, purity
Family: infertility, adoption, marriage, divorce, mixed-race family
Colon Cancer: screening, Lynch syndome, early-onset, survivor tips, spiritual support
Writing: tips and tricks, careers, writing for online, freelancing, memoir
Faith: belief, doubt, prayer, suffering, authentic faith
Want to explore if I'm the right speaker for your event? Please contact me.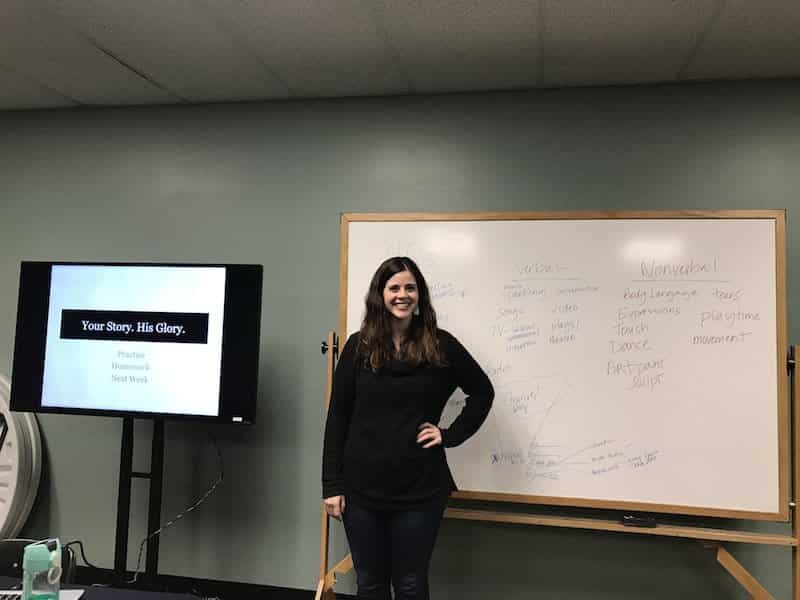 Workshops
I love teaching hands-on, interactive workshops to communicators! Here are my most popular topics (If you need something different, let me know). Most often, I teach to nonprofit organizations, marketing agencies, professional associations and student groups.
Currently, workshops are only offered by request.
"I've been to a lot of these workshops... but yours was the best."
-Julie, Writer, Pick your paint participant
"Writing my story also created a shift in my verbal share. It felt different, I saw a response in their eyes I haven't seen before."
-Mindy, Board chair, Share your story participant
"Danielle went above and beyond to make sure we understood the material and kept every lesson fun and interesting. Danielle taught me so much about myself as a public relations professional and gave me the confidence to be a successful."
-Emily, PR pro
How to share your story (popular)
This two-part, hands-on workshop covers the importance of storytelling, the building blocks of a great story, tips for making a story memorable and practical suggestions for writing a blog, public speaking and doing a video interview.
SEOO7: A course for SEO content writers (popular)
SEO content writers are like the secret, undercover agents of search engine optimization. In this workshop, we learn how to use the right weapons for online content writing and identify opportunities lurking in the dark. Let's use our Intelligence to make sure your website or blog gets in on the action!
10 Ways to Become a Writing Hero
Content is king (or queen!), but good writers are the true heroes. During this session, we cover 10 easy tips for improving your writing skills. You'll walk out armed and ready to save the day... or at least your website, blog, social posts, emails, brochures, and more!
Pick Your Paint: Writing for the Web
You wouldn't paint your kitchen with outdoor, deck stain. So you shouldn't write your online content like a traditional, printed project. In this workshop, we cover the nuances and opportunities in writing blogs, websites and social media posts.
Career Writing
Explore the different ways to make a living as a writer—it's possible!—and there's more ways than you might think. This workshop is perfect for high school and college-age kids exploring a writing career, or any aspirational writers.
31 Ways to Answer to "Did it Work?"
Did it work? What's the impact? Every team asks these questions once a campaign launches, but not all teams know how to answer them. In this workshop, I offer 31 ideas for determining if a communications campaign worked (or not), and the tools you'll need to track progress and success.
To request more information about communications workshops, contact me!