In 2001, I was diagnosed with stage III colon cancer. I had just turned 17.
I'd spotted blood in the stool (for many years) and one unfortunate day, a tumor was staring my GI back in the face as his scope detected the cause of my issues.
My days of high school theater, algebra and hanging out with my boyfriend suddenly changed.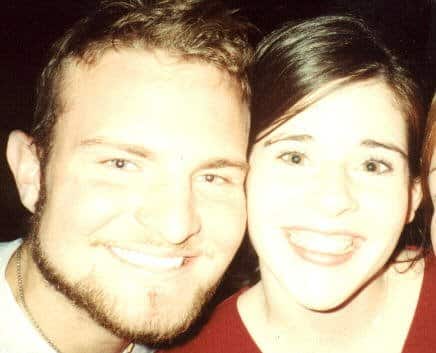 I entered a world full of colon talk, cancer hospitals and itchy, scratchy (and dare I say ugly) hospital gowns.
Surgery and Treatment
I first underwent colon resection surgery and then began a FOLFIRI chemo cocktail.
I had another "quick" surgery – an ovary suspension – to move up my ovaries out of the path of the radiation, which I then received for about six weeks.
But don't worry – in the midst of this I did make it to my junior prom.
That was my focus, at least.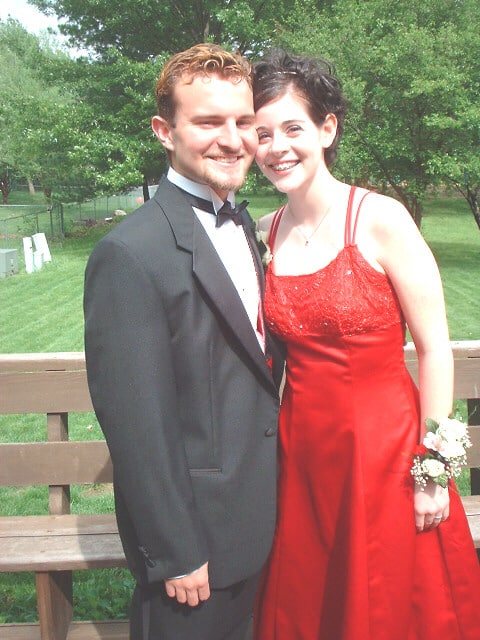 For about seven months, I was in the swirl of full-on cancer treatment as an amazing team of doctors and nurses in Kansas City worked to save my life.
The treatment ended just in time for me to go back to school and finish out my senior year of high school.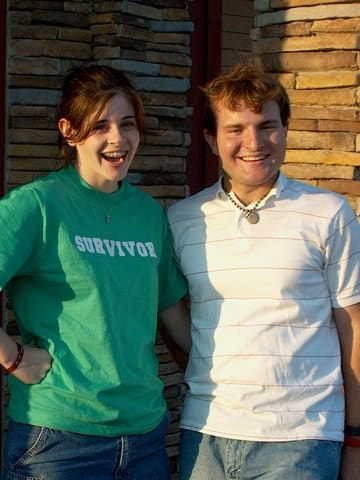 For eight years, I lived as a happy "semicolon," or that's what I called myself.
Sure, my awareness of where the bathrooms were located was a tad higher than most of my college friends, but I learned how to live with a shortened colon and the badge of "survivor" proudly pinned to my chest.
I even got a college scholarship just for cancer survivors.
My "new normal" was relatively easy to adopt, as I was already in the midst of so much life change.
I got married (to my caretaker and high school sweetheart Mike).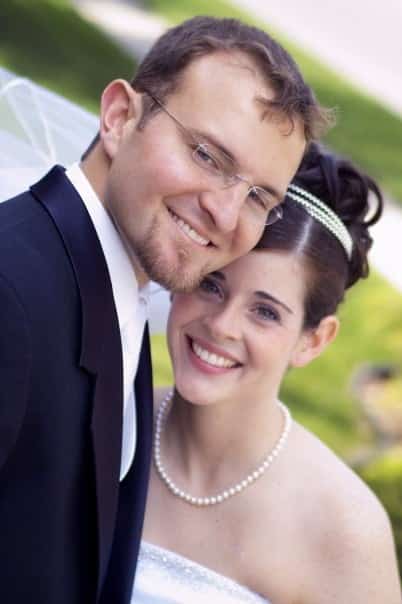 I also finished college and got a job in advertising – a first step into a hopeful career of public relations for a cancer nonprofit one day.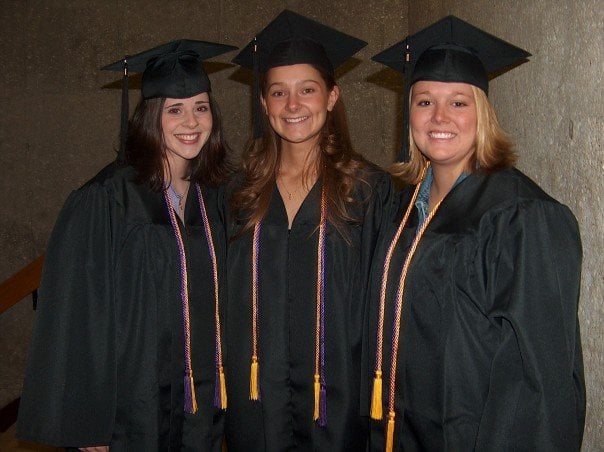 Although cancer was a part of my life, I hadn't stopped to consider the power of telling my story.
That is until I ran across The Colon Club.
Joining The Colon Club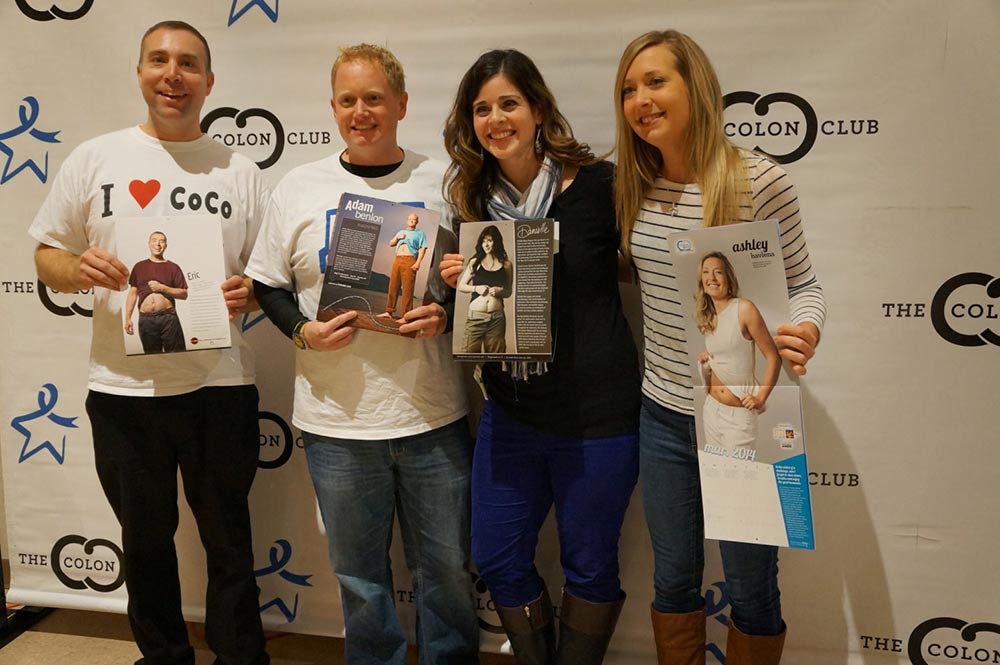 One random day in 2007, I found myself googling information for colon cancer survivors.
While cancer survival statistics were not top-of-mind, something inside of me said I needed to think about my survivorship more.
So, I googled it.
I soon found an organization that made my jaw hit the floor.
There on the homepage was a girl who looked young like me (well under age 40!) with the same scar running down her abdomen.
She was a stage IV survivor.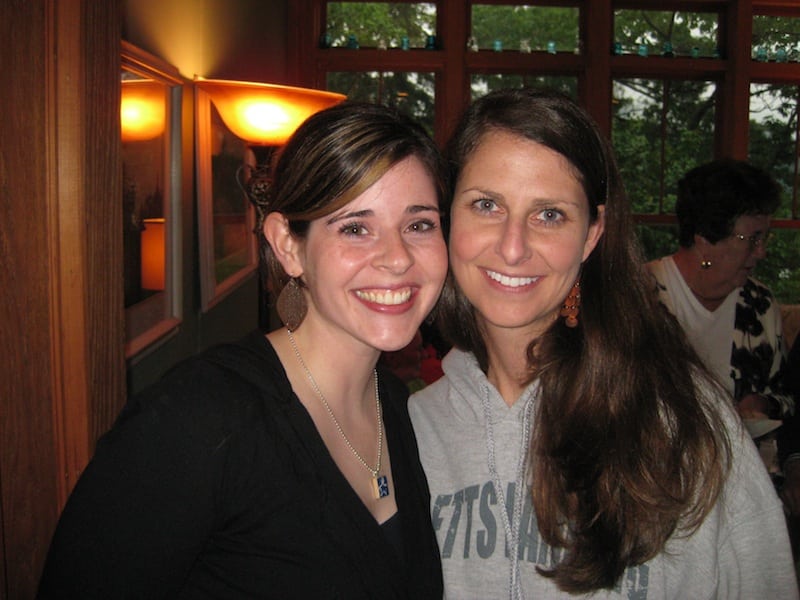 I'd never met another colon cancer survivor, much less someone in their 20s and 30s!
I scrolled through the website and saw a project called "The Colondar" – a calendar of men and women diagnosed with colorectal cancer under age 50.
I soon was notified applications were being accepted. And then:
I applied.
Next thing I knew, I was flying to upstate New York for a photo shoot and posing as Miss October 2009 — an experience that changed my life.
I began telling my cancer story in public… a lot.
I showed off my scar.
I became friends with other colon and rectal cancer survivors.
Little did I know this would come in handy when I was diagnosed… again.
Colon Cancer:  Take Two
In Dec. 2008, my GI discovered a polyp during a routine colonoscopy that made the hairs on his arms stand up.
I was on a rotation of getting scoped every three years; we all assumed this was enough.
But the polyp he found made us doubt that, in fact although the biopsy ruled it non-cancerous he wasn't convinced.
Based on my personal history of colon cancer, he recommend I go through another surgery, a subtotal colectomy, to remove as much of my large intestine as possible.
He figured if we remove as much of the organ at risk, we remove much of the cancer risk.
I took his advice and a few months later, I went under the knife for what I thought was a step of prevention.
But it turned out – it was actually a life-saving surgery once again.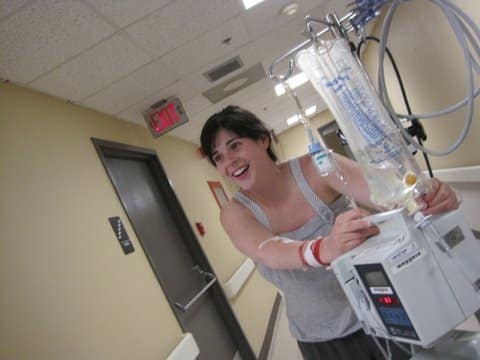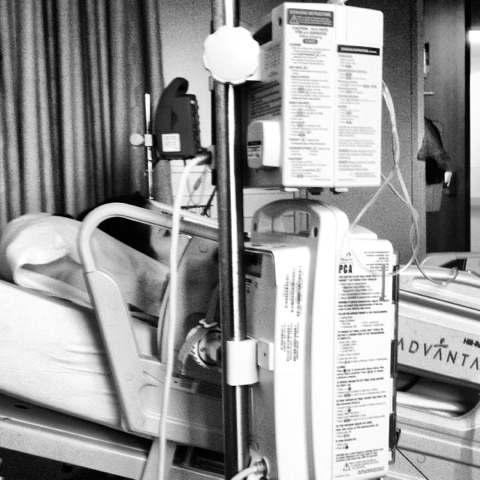 The polyp he had found months prior was not benign – pathology reports came back showing it to be stage I colon cancer.
I'd just been diagnosed with colon cancer again – at age 25.
You'd think being a colon cancer survivor already, I would have known how to handle it, but my teenage brain handled cancer very differently than my 20-something brain.
I was facing new emotions and concerning fears that I'd never felt before, especially because I was facing cancer again.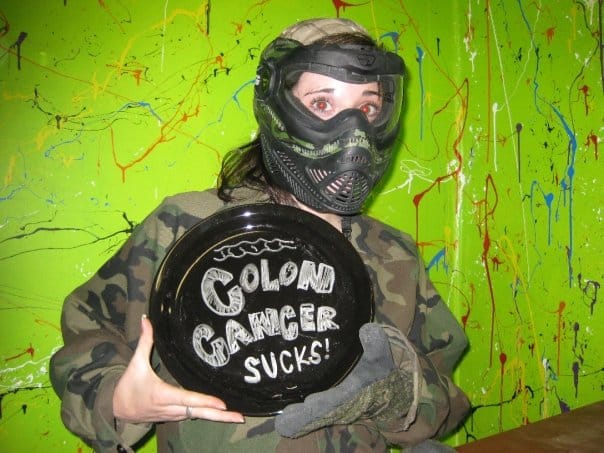 To cope, I decided to start a blog, Semicolon Stories.
I figured it was a way for me to capture, understand, process and tell my story.
Helping others was an added benefit.
This is how I became a blogger.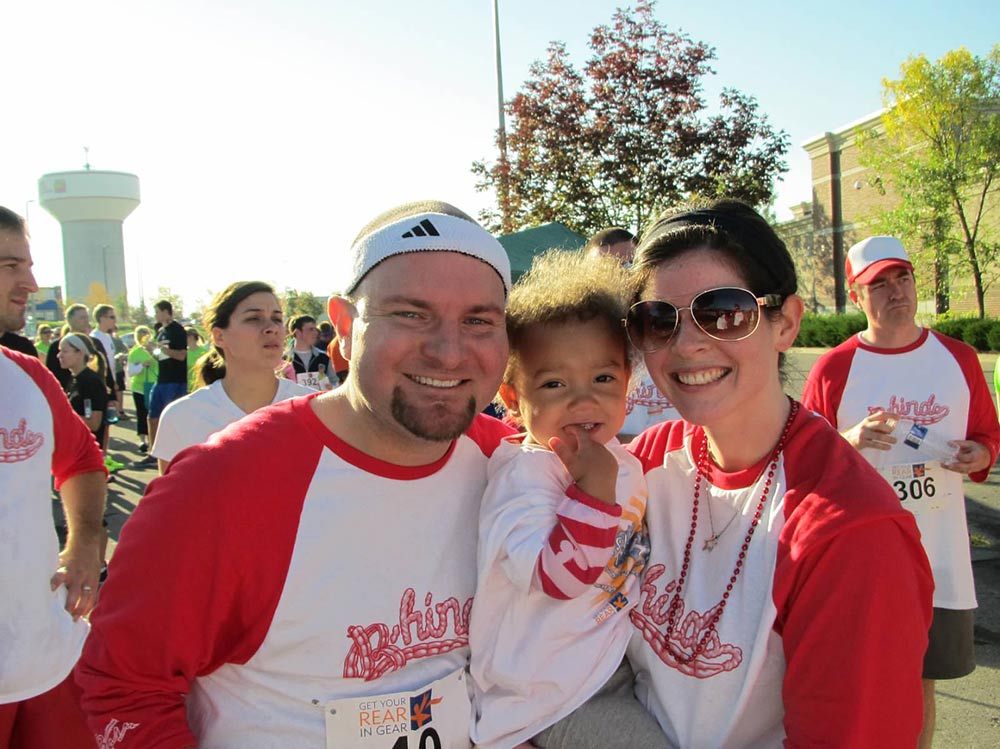 Adopting After Cancer
I struggled after my second diagnosis, not only with the cancer itself but also with infertility and the closed doors to parenthood cancer brought about.
Although I knew adoption was the route for my husband and I, we had been looking into international adoption.
(For background, cancer #1 put us in that boat since fertility preservation was not a hot issue back then and I chose not to pursue alternate reproduction therapies.)
A new cancer diagnosis didn't only set back our timeline to start a family, but it closed a few doors.
I was so sad and on some days, angry.
But after a season of healing, and after a crazy time leading up to September 2010, we started the adoption process.
We found a domestic adoption agency willing to work with us, and my oncologist wrote a note declaring I was a "healthy, suitable mother."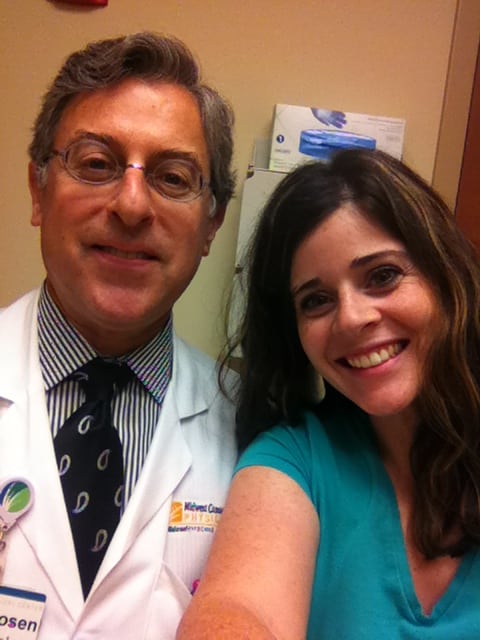 We began the adoption process in September 2010, completed our home study and before the adoption agency listed our profile so pregnant birth moms could review us…
… we had a random call from friends asking us if we were interested in adopting a 4-month old baby girl.
We adopted our daughter in January 2011.
Diagnosed with Lynch Syndrome
Once the shock of a second cancer passed, our adoption craze settled down and life got to a "new normal," doctors began talking to me about a genetic condition they suspected caused my cancers — Lynch syndrome.
Genetic testing in 2001 and again in 2009 had indicated something genetically was wrong, but the research was primitive and details unclear.
However, because of my young age and two occurrences of colorectal cancer, doctors recommended I be treated as a Lynch syndrome patient.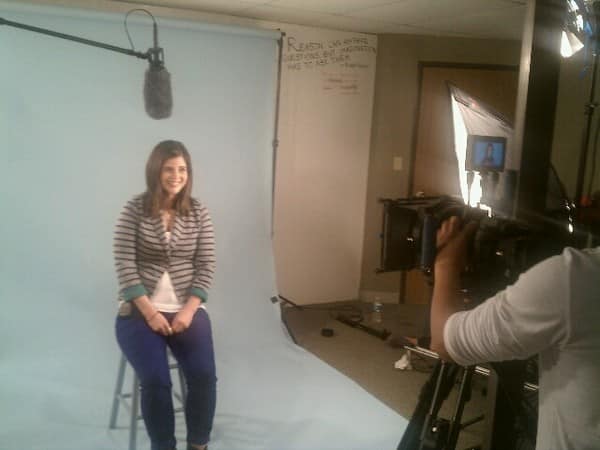 This involved a total hysterectomy in 2012, a new schedule of yearly colonoscopies and many other tests to prevent another cancer occurrence.
In 2013, I was relieved that the hysterectomy wasn't "for nothing."
It was confirmed that I do have the MLH1 gene variant of Lynch syndrome.
But, I had yet another curve ball come my way:
Neither my mom nor dad tested positive for the gene variant.
Although I have an inherited genetic disease, I didn't actually inherit it.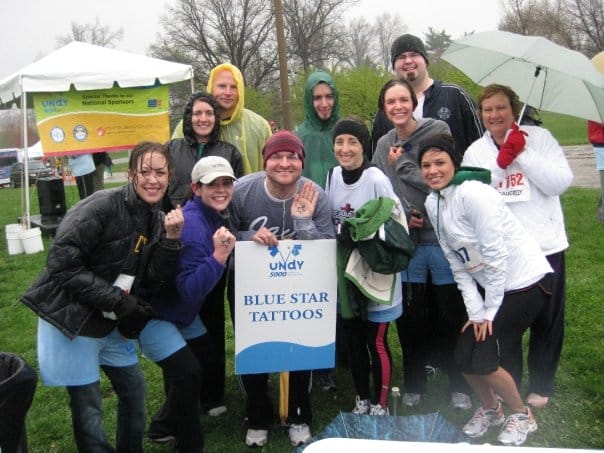 How I'm Handling Life and Cancer
Through over a decade of fighting colorectal cancer, I've experienced many levels and layers to this disease.
I've ignored it, downplayed it, shared it, been empowered by it and lived in fear of it.
I've hit just about every physical, emotional, mental and spiritual issue that can come with cancer … and particularly as a young adult.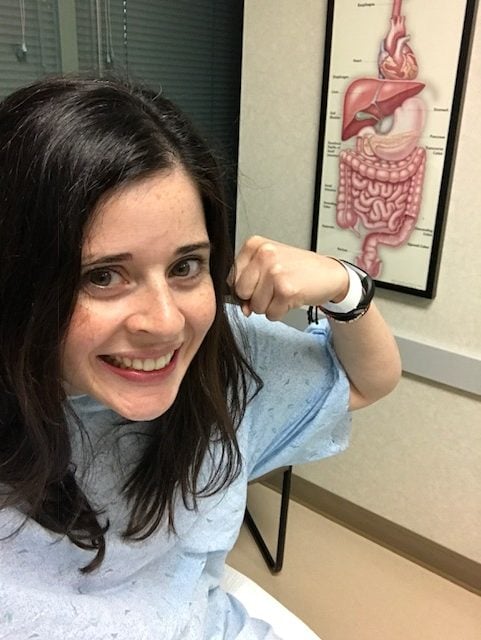 But through it all, I've been blessed with a strong faith in God I credit to getting me through.
Support from friends and family has helped me stand up (literally) when I've felt weak.
I've had many amazing opportunities to share my story.
Each time I do, I heal a little bit more; sharing helps make me strong.
And in that strength, I've found the ability to help others.
Fight CRC
In fall 2012, I met the team at Fight Colorectal Cancer (Fight CRC).They were about to launch a new awareness campaign, One Million Strong. I volunteered to be in the photo shoot. The rest is history.
In summer 2013, I began working as the organization's first Director of Communication and served in this role for 5 years. I continue to stay involved as a freelance writer/strategist and advocate.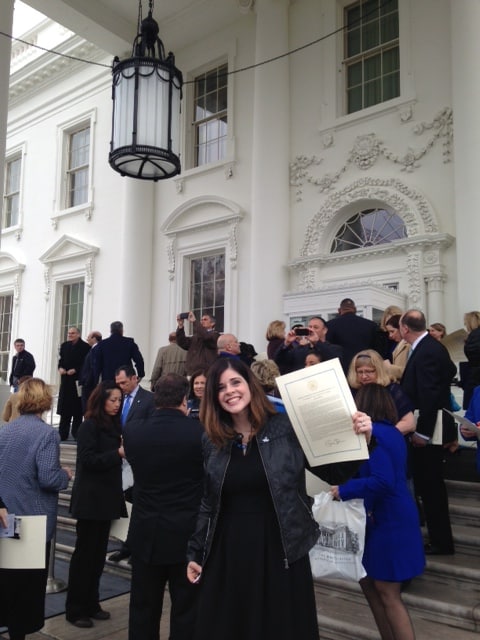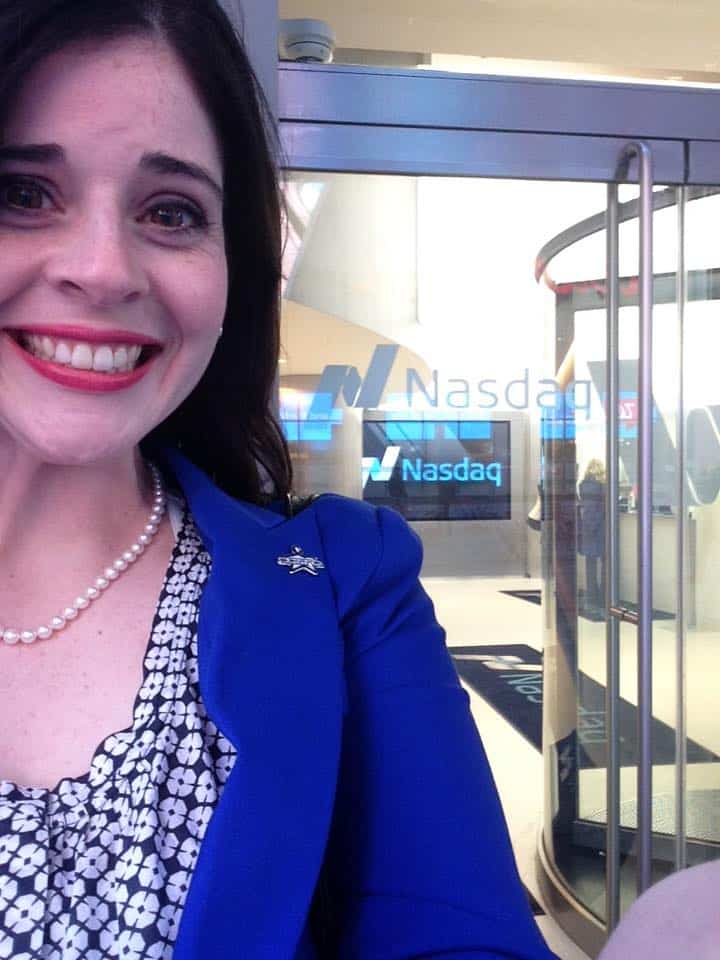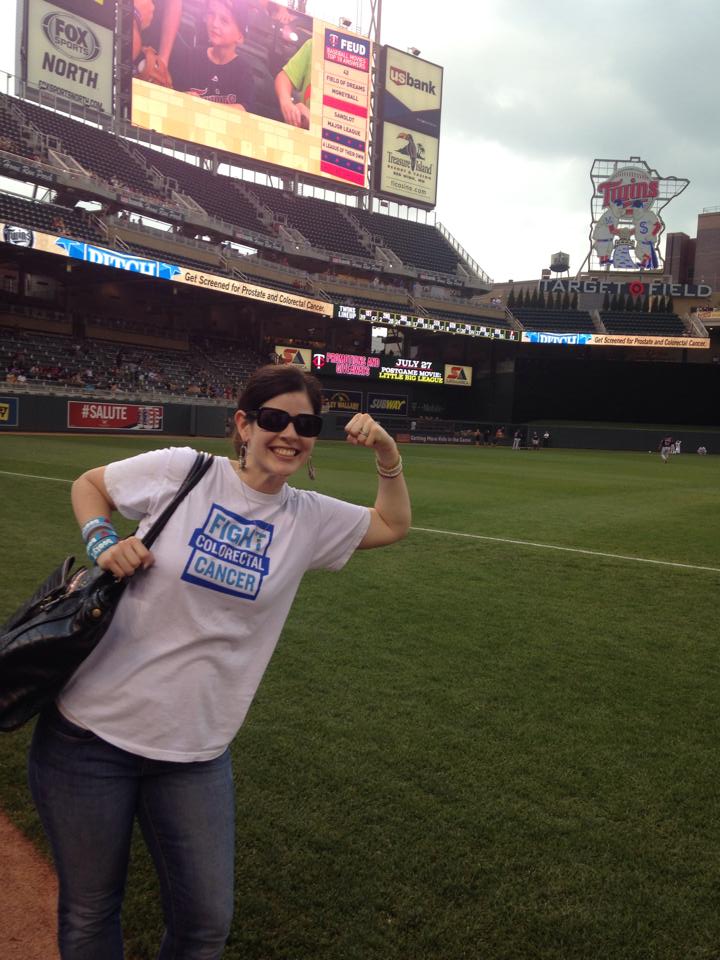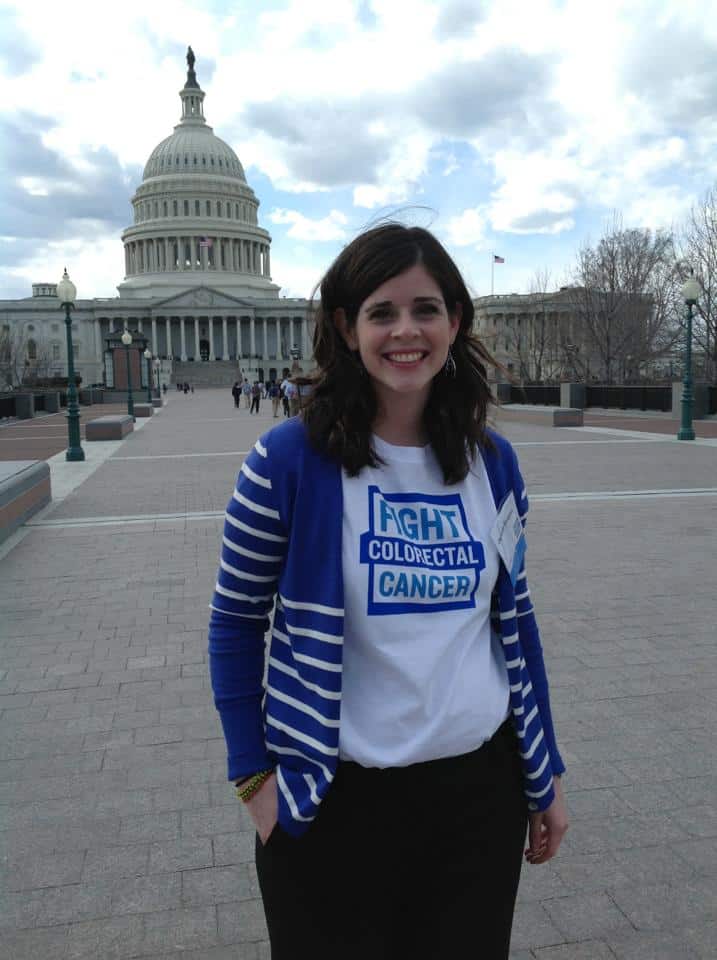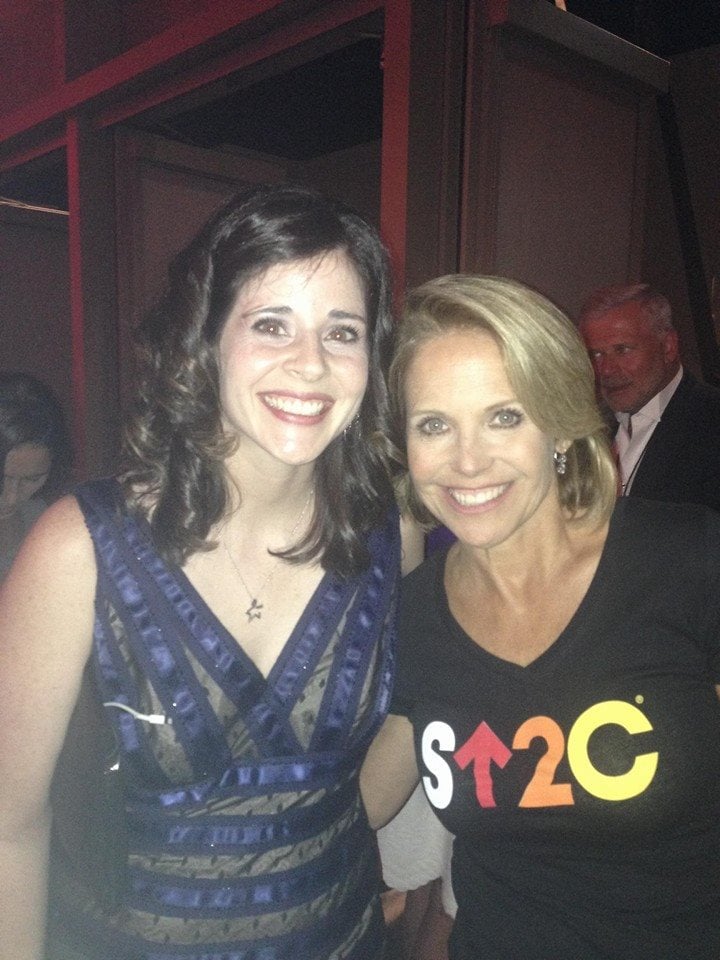 My 17-year-old self wouldn't have believed how this cancer story has unfolded.
But then again, I believe sometimes the best stories are those you couldn't have ever foretold.
What now?
I feel extremely blessed to be a cancer survivor.
I believe there's a reason God still has me here.
While each day is a mystery that unfolds, I like to think some of it has to do with:
I can help those suffering know they are not ALONE.
I want to remind fellow Believers that we serve a God who's no stranger to pain himself – we must have FAITH and let Him walk through tough times with us.
I want people to ALWAYS find hope – even in the most traumatic of times.
I yearn to point out the LIGHT – even in places we least expect to see it. Trust me… it's there.