Hey friends, my 2020 colonoscopy brought good news. Here's the rundown of how COVID-19 affected it, the prep, the actual procedure  and recovery!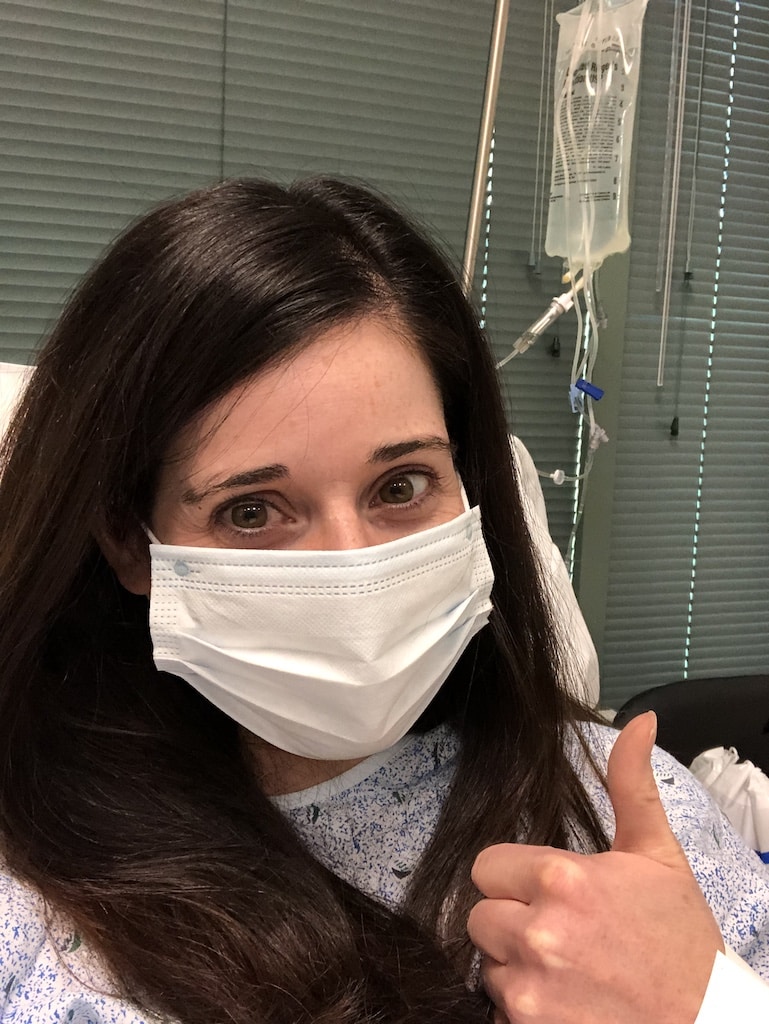 COVID-19 Colonoscopy
I hope this will be the only colonoscopy I undergo while Covid-19 is running the world. I'm realistic and understand that it takes time to fight a global pandemic, but I'm hopeful we can get this virus under control before the next time I need a procedure like this!
Scheduling
I wrote about this in an op-ed in the Philly Inquirer and said I'm part of the 40% of patients whose procedures were delayed this year. I needed a follow-up colonoscopy in April after my 14th colonoscopy, but my GI couldn't do it. (No GI could perform colonoscopy for a while unless it was an emergency.)
As restrictions on medical procedures lifted in late spring, I quickly got an appointment for July, but then I had an unexpected trip to the hospital due to a small bowel obstruction. I had to cancel my coveted appointment slot.
By the time I rebounded from my three-day hospital stay and got back on my feet, the soonest appointment I could snag was November.
Fear of Recurrence
I was grateful to have an appointment on the calendar, but that didn't stop the fear and worry from bombarding me. Having Lynch syndrome means I need to be scoped every year and (almost faithfully), Dr. Taormina, my GI, usually finds a few polyps.
In 2009 at age 25, I had gone from no polyps to stage I colon cancer within three years, so having a colonoscopy is critical and life-saving for me.
I was nervous to go 18 months without one, but this did lead me to pray. I was very grateful for my email subscribers who offered me their prayers, as well as our home church. It helped me activate my faith and face the worry head on.
Alone
Being a patient during Covid-19 also means you're facing things alone. Never have I walked to the front desk to check into a colonoscopy by myself, Mike dropped me off at the door. After I got checked in, I sat by myself in an empty waiting room before nurses took me back. This was so strange and eerie.
Mike and I kept in touch via texting so he could know what was happening with me. I couldn't stop thinking about the thousands of cancer patients who've never experienced anything outside of 2020's medical world. I bet they feel so, so alone. I hoped they know it won't be like this forever, they won't sit without hands to hold or hugs to receive. 
It made me pray even harder for all of the patients going in and out of treatment every day. Covid-19 makes being sick even more difficult.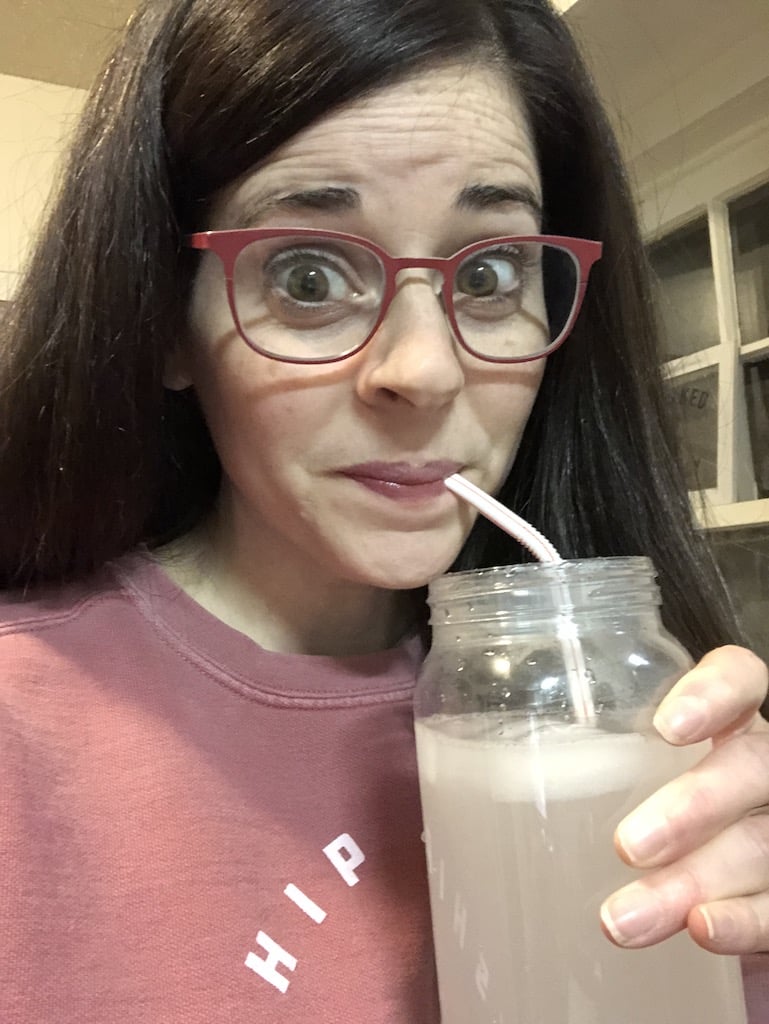 Prep and Procedure
Although Covid-19 cast a worrisome shadow over the experience, it really went smoothly.
Prep
I consider myself a pro prepper at this point, and so it really wasn't a big deal. I used PLENVU bowel prep again because it's so much less liquid to drink and it works fast. I started the prep around 6 p.m. (a few hours later than what my doctor recommended) but by midnight that night, I was running clear.
I'd intentionally eaten smaller meals for the few days leading up to my colonoscopy, which also made for an easier time with the prep. Less food means less to clean out. The night was far less dramatic than past experiences.
Procedure
After I got over the discomfort of walking into the clinic and checking in alone, everything else was smooth sailing. In fact, I think that because there were fewer people around, the staff were even more focused, they were running more on time, and the teams were very attentive. I didn't mind the stillness and quiet. 
As always, the nurses and techs were excellent, my doctor was amazing, and I enjoyed a wonderful nap while my colon got checked. It didn't hurt and I stayed comfortable the entire time.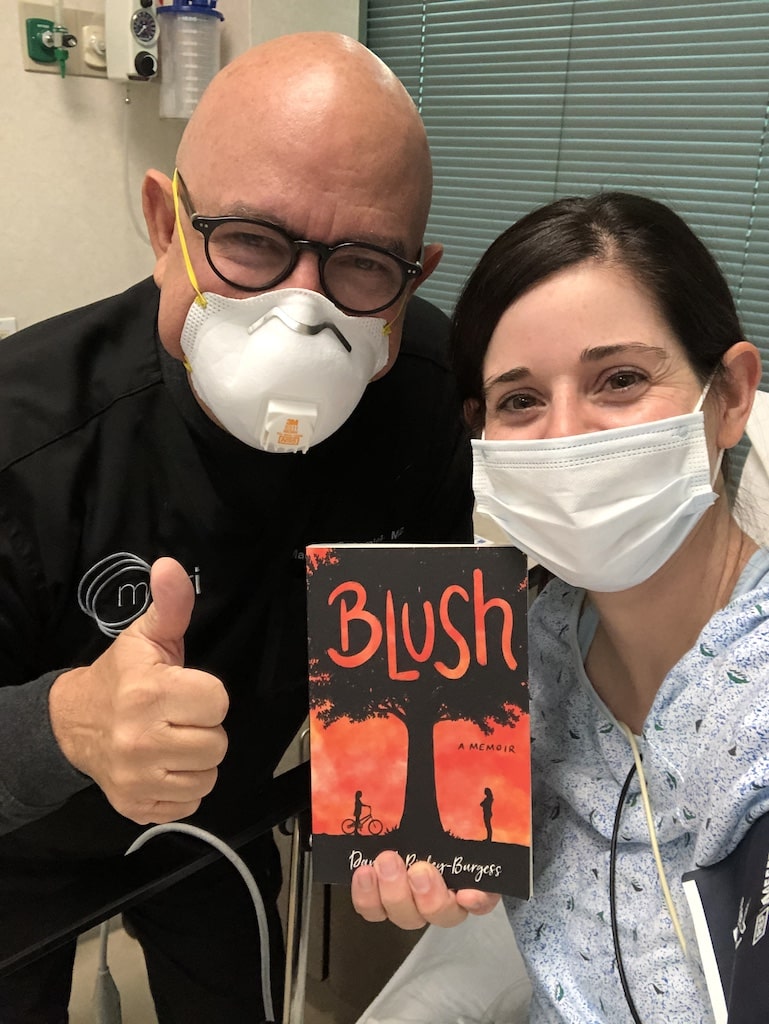 Results and Smiles
The prep and procedure had set up colonoscopy #15 for success, but the results sealed the deal. Even after waiting 18 months between colonoscopies, Dr. T only found one small colon polyp. A few days after its removal, a notification appeared in the online patient portal from pathology telling me it was benign.
This is why I get these procedures every year... they really do stop cancer before it starts and they're helping save my life.
Book signing
At the end of the day, not only was I smiling wide because my procedure went well and I got good results, but it was awesome to see Dr. T after the launch of Blush, my book. He has a starring role in the story, and the grin on his face when he walked in with his copy was almost bigger than mine. Despite our masks, I could tell. :)
It's such a gift to have him in my life almost 20 years later, he's the only GI who has ever performed a colonoscopy on me. From #1 in 2001 to #15 in 2020, I'm grateful to have Dr. T in my life and part of my continuing story.