He replied, "Because you have so little faith. Truly I tell you, if you have faith as small as a mustard seed, you can say to this mountain, 'Move from here to there,' and it will move. Nothing will be impossible for you." Matthew 17:20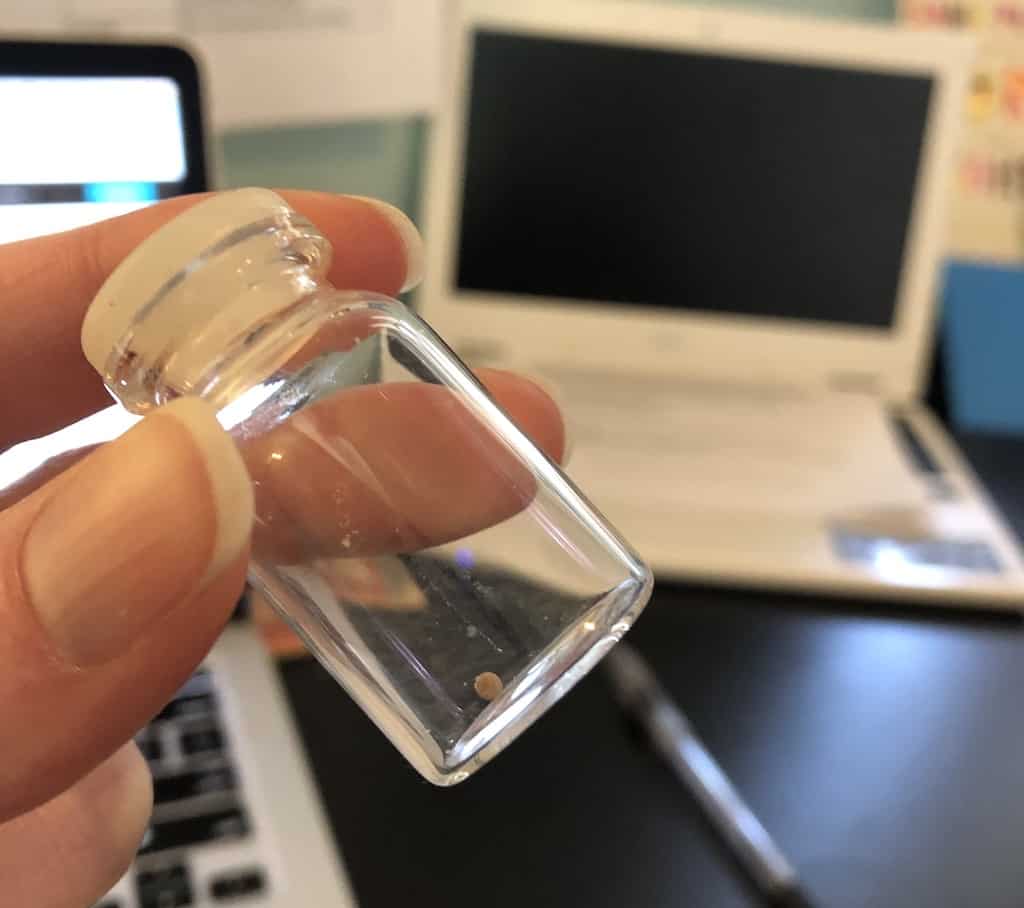 Junior high is when I first learned about mustard seeds. If you're not familiar with them, they're tiny little yellow balls that, if planted in fertile soil, can grow to become huge bushes. I've never seen one of these big bushes (that I'm aware of), but I have seen and held a mustard seed. These tiny little seeds are one of the many practical things Jesus used to describe faith.
Shortly after I learned about mustard seeds, I was at the grocery store with my mom and happened to notice a red container of them in the spices aisle. I nearly gasped. It contained not one, but hundreds, of mustard seeds.
"Woah," I thought. If one of these can move mountains, I can only imagine what this entire thing could do. 
I honestly can't remember if I bought the container with my own money, or if Mom bought it for me, but I do remember that I couldn't leave the store without it. Once I made it home, I dropped a single mustard seed into mini glass jar and I've kept it near me ever since. It used to sit near my bed, and now I keep it on my desk. It's with me all the time.
I tossed out the container of mustard seeds years ago, but I've always held on to the single seed in the jar. It's a physical reminder that faith doesn't take much and that it starts really, really small. 
Over the years I've seen incredible things due to small amounts of faith. I've seen relationships restored and reconciled. I've witnessed people step into breakthrough over alcohol, pornography, drugs and other addictions. Those with $50 to their name were provided for, and those without hope had a breakthrough at just the right time. And yes, I have seen and heard about faith bringing healing to people in a variety of physical, emotional and mental ways.
Personally, being intentional to step into faith has brought about many desires of my heart. If you know my story, you know the first few decades were really hard, but the past 15 years have brought incredible blessings. I believe it's because of where I put my faith.
Having mustard seed faith isn't exactly like possessing a magic wand, which means there's still mountains I am hoping to see moved and prayers yet to be answered.  But, a small seed of faith is a catalyst for change, and it's a step of surrender that says, "I'll choose to trust God and even though I can't physically see Him or discern the way this mountain's going to move, I'll continue to trust and believe."
This devotional first appeared in the Monday Morning Survival Guide. Subscribe to get next Monday's devotional emailed to you!
GET ALL THE STORIES
Stay in the loop and get notified about Danielle's latest blogs and projects.