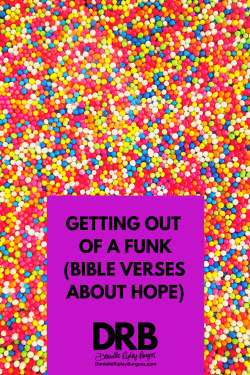 I've had a rough week, and what's really frustrating is I can't pinpoint why. Anyone else experience this?
Nothing major has struck me, I just feel like I'm in a funk.
This morning as I processed and prayed through the heaviness in my heart, I reflected on a verse my friend Doc and I discussed, 1 Peter 1:13.
We asked one another, "What does it mean to 'set our hope'?
Images of setting a table, or setting up a volleyball, came to mind. To set something means to use the tools around me and to expect good to come.
So, I opened my Bible - one of the best tools I own - and expected God to show up.
Bible verses about hope
I see the Bible as a love letter from God to me. Sure, it's got some confusing parts (I just read through Leviticus.)
But if I step back and read line for line, and the spaces in between, it's an epic story of how much God, a Father, loves me and all of His children.
I choose to believe and receive this.
Inside of this love letter are stories and verses about hope.
If you happen to also find yourself in a funk and need encouraging verses about hope today, I pray some of these Bible verses about hope will also speak to your heart.
(To get a longer list, check out 25 Top Bible Verses About HOPE.)
Hope that sin and suffering is temporary
And we believers also groan, even though we have the Holy Spirit within us as a foretaste of future glory, for we long for our bodies to be released from sin and suffering. We, too, wait with eager hope for the day when God will give us our full rights as his adopted children, including the new bodies he has promised us. We were given this hope when we were saved. (If we already have something, we don't need to hope for it. But if we look forward to something we don't yet have, we must wait patiently and confidently.)
Hope for my inheritance in Heaven
Praise be to the God and Father of our Lord Jesus Christ! In his great mercy he has given us new birth into a living hope through the resurrection of Jesus Christ from the dead, and into an inheritance that can never perish, spoil or fade.
Hope renews my strength and power
But those who wait for the Lord [who expect, look for, and hope in Him]
Will gain new strength and renew their power;
They will lift up their wings [and rise up close to God] like eagles [rising toward the sun];
They will run and not become weary,
They will walk and not grow tired.
Hope that God has a plan and future for me
For I know the plans I have for you, declares the Lord, plans for welfare and not for evil, to give you a future and a hope.
Hope in hard times won't disappoint me
We also have joy with our troubles, because we know that these troubles produce patience. And patience produces character, and character produces hope. And this hope will never disappoint us, because God has poured out his love to fill our hearts. He gave us his love through the Holy Spirit, whom God has given to us.
God delights when I hope in his unfailing love
The LORD taketh pleasure in them that fear him, in those that hope in his mercy.
Don't let my hope get crushed (hope deferred)
When hope is crushed, the heart is crushed, but a wish come true fills you with joy.
What are your favorite Bible verses about hope?
These are some of my favorite Bible verses about hope that helped break my funk.
I'd love to hear some of yours!