"I was the primary caregiver for my daddy who passed away from colon cancer in 2013. Two years later, at 34 years old, I was diagnosed. Stage IV colon cancer. No symptoms. No genetic marker. In place of shock was heartbreak; that my husband would bear the burden of primary caregiver. In place of the sting, sheer willpower and readiness to fight. I am the changing face of colon cancer. We are warriors—young, active, symptom-free. And it is for us that I advocate."
"Who is this?" I wondered as I read the powerful quote submitted for a press release. I was working as the Communications Director for Fight Colorectal Cancer and we were notifying the Atlanta media about a local Call-on Congress scholarship recipient.
Heather caught my attention with her powerful words. A headshot she submitted, one with orange hair, made me want to know her more. A few weeks later, I got that chance.
Heather with a Feather
In a meeting room with more than 100 people, she stood up, grabbed the microphone, and gave a stunning introduction for herself and her husband Fred (we all quickly learned he was her "knight"). Not only were her beautiful eyes, kind smile and red lips memorable, she'd also publicly ditched "Pearl," her wig.
"Pearl and I broke up & I went bald or wore a feather headband the rest of our stay!" [from an email]
It was a moment everyone at the 2017 Call-on Congress would remember:  A wig-wearing, blue-hatted beauty bared her bald head for an entire room of strangers (people she soon began calling her "tribe"). Classy accessories with feathers, most of them blue, became her signature look.
Her courage was mesmerizing. Her authenticity, stunning. She seemed to effortlessly possess something we all craved... a confident grace that could both stand up and boldly fight cancer yet also sit down to accept its suffering and pain. Her cancer was inoperable and she'd accepted the news:  chemo for life. Yet she always kept laughing and found goodness. She even signed her emails with, "My Best."
"Even if the scans don't go as I had hoped, advocating with Fight CRC is still a way I can fight."  [a statement from her ambassador video]
From the day colorectal cancer entered her world, she never stopped fighting.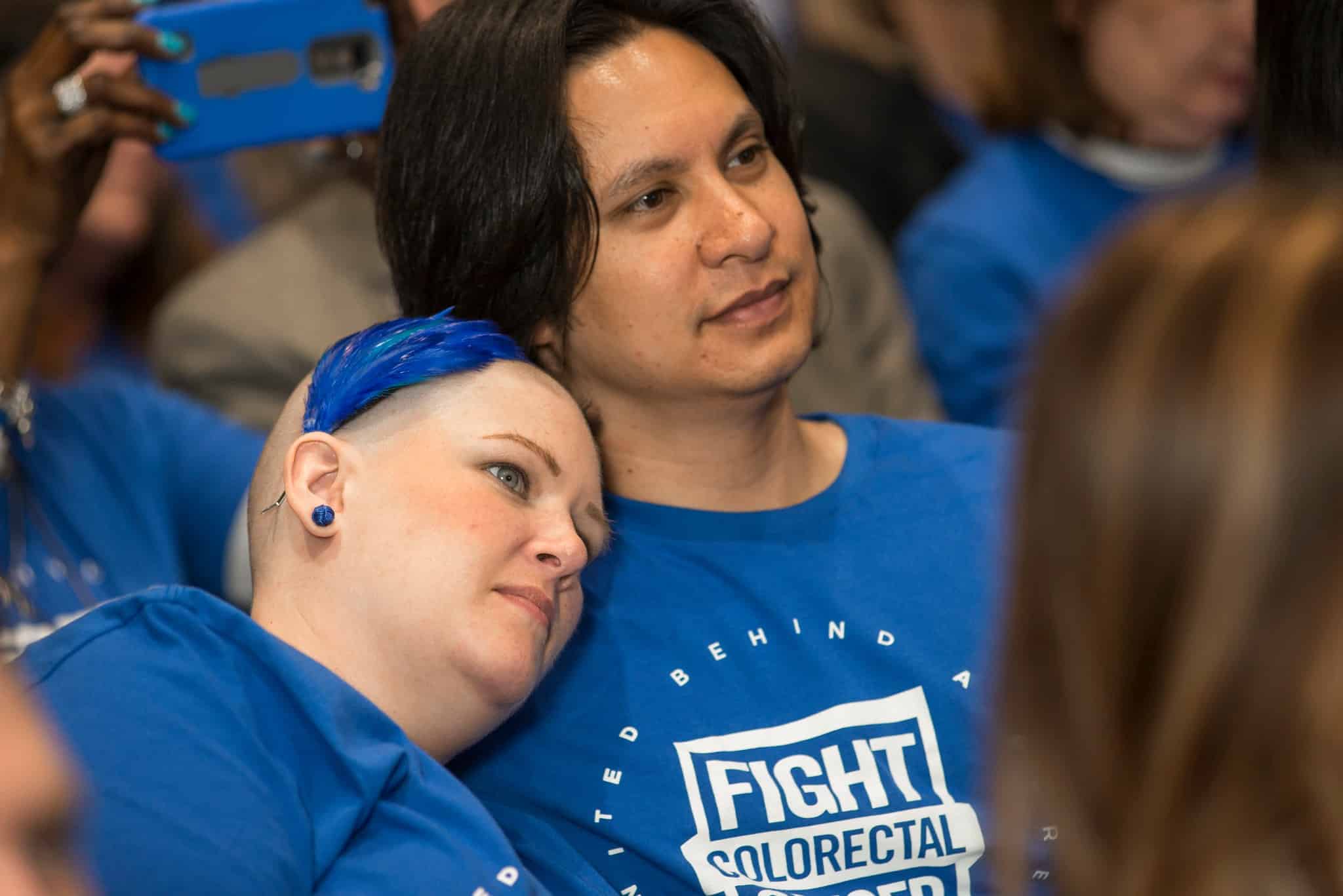 Heather's Fight
Her story always stunned me. She and Fred moved her daddy into their home once he was diagnosed with colon cancer at age 62; he lived 10 months. As a fellow young married, I could relate with her... when my friends were having babies, I too fought cancer instead.
Two years later, she couldn't drink water without throwing up, and that led to her stage IV colon cancer diagnosis. The selfless caregiver became the patient... she knew what awaited her. But she was concerned about one thing:  Fred. Their story was painfully tragic yet hopelessly romantic. He didn't only stand by her side, but he found his own caregiver voice.
Opening Up
While many in their situation would (understandably) isolate and get bitter, the Schillers didn't do that. They opened up about their relationship (inspiring us to take trips and go on more dates). Both locally and online, they got involved in community. They let us love them and explained ways to help. Yet they were so quick to help others.
Both Heather and Fred became Fight CRC ambassadors. Heather eagerly made videos and modeled for photos. She often provided quotes for patient resources, met with members of Congress from a wheelchair and posted on social media. She even took over Fight CRC's Instagram channel one day during their Italian vacation.
"I want to inspire other stage IVs on maintenance chemo to follow their passion. We are the sun! We revolve around cancer. Cancer doesn't revolve around us!" [an email from Heather before she left for Italy]
They made their own awareness bracelets with a hashtag, #HeatherWithTheFeather and said "yes" to anything that could help save a life. They fought for themselves and others. They fought for me and my family.

Woman of honor
I'm one of thousands who admired Heather and called her a friend. My daughter Mae is too. Heather had a special way with kids, mine included. I cherish the afternoon we all explored the Library of Congress in D.C. together and ate lunch at a pizza joint. I wanted to introduce Heather to Mae because Heather was a woman of honor—a beautiful example to follow.
She honored herself through fun colors (especially hair!), expressions and accessories. She honored her husband, a modern-day knight. She honored others by advocating for them, even if that meant fatigue and pain due to the traveling. And, she honored God.
"TY Danielle, and thank God for sending us such amazing men of Honor! Appreciate your love and prayers and grateful for Mae's heart. Send Mae my love. Love you both! Love, Fred and Heather" [the last tweet & text we exchanged a few days ago]
Along the way, I learned Heather and I didn't only both survive colon cancer and marry awesome men, we also both loved the Lord.
"With every hard turn it is clear, God has already carved our path. He placed angels along the way that lift us up with prayers, love and kindness. When we desperately need a gentle reminder HE is steering this ship, an angel appears! And I am forever grateful that I get to experience this side of humanity." [snippet of her story she submitted to FightCRC.org]
I'm forever grateful that I got to experience the one-and-only Heather Schiller, or Heather With The Feather. I'm thankful to continue advocating alongside her knight, Fred. I'm clinging to what Heather believed, God puts angels along our path. I'm not exactly sure how she kept finding them, but I know what I'm looking for. Blue feathers.
--
Get Heather's service information and post on the memorial wall.