I recently connected with Elizabeth and found out we have a lot in common - particularly our shared passions to encourage those who are suffering and tell stories. I recently checked out her new book, The Waiting Room, and thought you all would enjoy it too! Here's a behind-the-scenes on why she wrote it! For more information, check out The Waiting Room: 60 Meditations for Finding Peace & Hope in a Health Crisis or Elizabeth Turnage's website.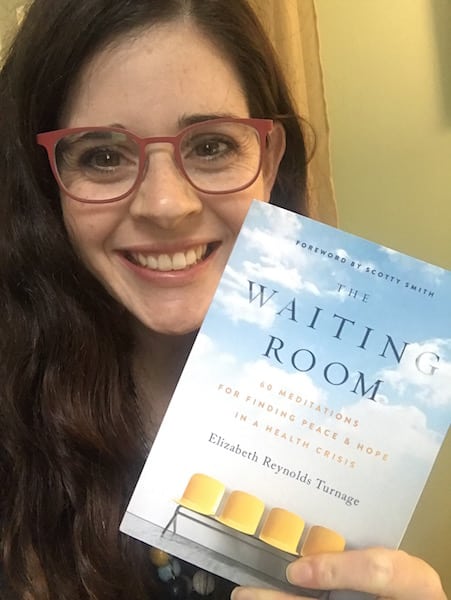 Q. Who did you write The Waiting Room for?
I wrote The Waiting Room for all of the hurting people—patients and caregivers and loved ones—who sit anxiously in waiting rooms all over the world.
In 2017-2018, our son had four brain surgeries over a nine-month period. At the same time, I was caring for my 83-year-old father, who had Stage IV prostate cancer.
I spent hundreds of hours in lots of waiting rooms. I would look around at all the people sitting there and wonder, "How do they endure this hard place if they don't have the peace of Christ?"
I knew even then that I wanted to write something that would bring true comfort and offer lasting hope in the angst of a health crisis.
Q. What are some of your favorite meditations that helped get you through waiting rooms?
Early in our son's journey, John 14:1 came to me. Jesus is speaking to his disciples just before he is about to be crucified.
He tells them: "Let not your heart be troubled; believe in God, believe also in me."
In the book, I tell about doodling this verse over and over as I waited for our son to finish a 3-and-a-half-hour MRI. As I explained, it was as if Jesus was speaking that verse to my anxious heart in that terribly long wait.
I also love the words from Philippians 4:5: "The Lord is near." A lot of people quote the second part of this verse, "Do not be anxious about anything, but in every situation, by prayer and petition, with thanksgiving, present your requests to God."
I think it's important to focus on the reason we do not have to worry or be anxious—because the Lord is near. The Lord's nearness calms us the way a mother's nearness can soothe a crying baby. The Lord's nearness reminds us that we have a mighty redeemer working for our good and his glory in all of our stories.
The Lord's nearness also refers to the reality that Jesus is coming back "soon," and in that day, he will defeat all disease and destroy all death forever.
Q. Any tips for caregivers who aren't sure how to put what they need into words?
Three words: "I. Need. Help."
In the book, I write about how crucial it is for caregivers to ask for and accept care.
Often, our "feelings are tired"; that is, we are so emotionally spent it can be hard to verbalize what we need. If we can communicate one simple reality to those who want to help, "Please make specific offers," that opens the door.
Consider posting on your caregiving site or on Facebook or via email something like this:
We welcome specific offers of help. Please ask me:
Can I mow your lawn?
Would you like me to walk your dog?
Would you like me to stay with your son while you walk your dog?
When you make general offers of help, that can feel overwhelming, because we have so many needs. When you make specific offers, we can say 'yes' or 'no.'"
Caregivers should also invite people to pray for themselves as well as for the patient. Sometimes people focus on praying for the sick and forget how desperately caregivers need prayer too.
Q. How did your faith get to be so strong?
It might sound strange to say, but I believe that experiencing a lot of weakness and suffering in my life has driven me to depend on God.
As I've relied on God and seen how he has responded to my prayers, sometimes with "yes," and sometimes "no," I've seen that he is at work in everything, providing for all of my needs. That doesn't mean he gives me everything I want; it means he gives me everything I need to grow more and more like Christ.
I told the story in the book of how my dad used to compliment me on my strength. One day he texted me, "You are incredibly strong in a day after day exceedingly trying time. No one knows how you do it."
I texted back, "Jesus."
He quipped, "My strength and my Redeemer?"
I really want people to know that I am not superwoman; my only strength to endure hard waits comes from trusting that Jesus is good, from knowing that one day he is coming back to restore all broken things.
When we suffer, when we are weak, we become desperate for the One who is greater than ourselves, the Lord. In a very strange way, the good news of a cancer diagnosis or a hard health care journey is that we become utterly dependent on God, and our faith grows stronger.
Q. What is Living Story ministries?
I love stories, and most of all, I love The Story, that is, the story God has written in Scripture that tells of how he redeemed a broken and sinful people and brought us to himself.
I write Bible studies, I teach retreats, and I coach people in learning, living, and loving God's story and their own stories. For example, I might coach a woman who is going through a transition, say, her children have left the nest and she has been a stay-at-home mom. What does it look like for her to serve God and fulfill the calling he has given her at this stage of her life?
I also like to teach retreats and conferences on how to pay attention to your stories so that you see how God, the author of all stories, is working in your life. Because I pay attention to my stories, I knew that God was at work even when we were walking through the terrible season with our son and my dad.
I was searching to see how he would redeem the brokenness of those hours spent in the waiting room; I knew that he would somehow use those stories to display his glory.
Q. Any future book projects in the works?
Yes, I have been brainstorming about a follow-up devotional to The Waiting Room. I get so many prayer requests throughout the week about people in crisis: a woman discovers her husband is having an affair, a friend's child is addicted to drugs, a friend's mother is showing signs of dementia, a hurricane has devastated a nearby town. I want to write a devotional for finding peace and hope in any crisis.
Q. What's your favorite baked good?
Oh, that's a tough one—a toss-up between my oldest daughter's favorite birthday dessert—homemade blueberry pie with a homemade butter crust, and my youngest son's favorite birthday dessert—chocolate chip cookie cake from Great American cookie.