This is a sponsored post. Salix Pharmaceuticals compensated me for this post. All opinions are my own. Certain product information has been included to meet regulations. Here's my experience with the product and some colonoscopy prep tips.
October 2019 Update: Here's why I chose to use PLENVU again for my follow-up scan.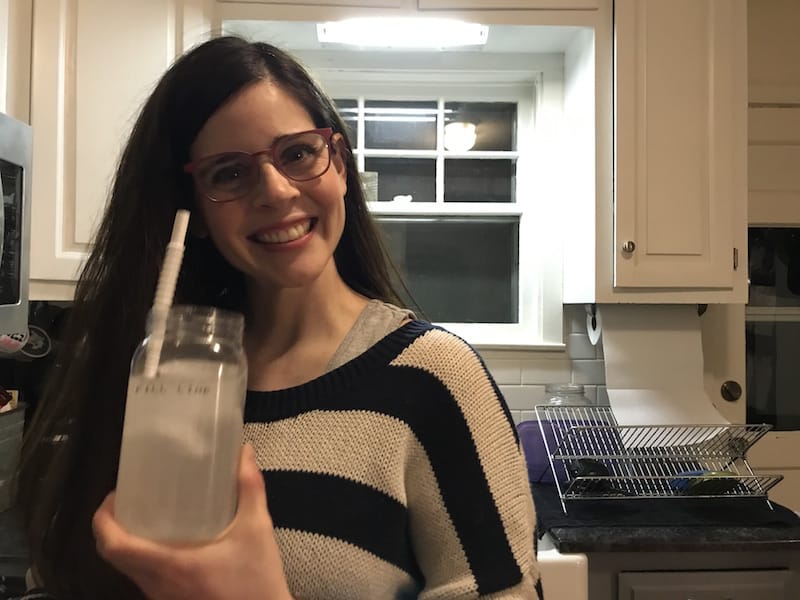 My 13th Colonoscopy
This fall, I had my 13th colonoscopy. This is more than most people receive in a lifetime, but as a colorectal cancer survivor with Lynch syndrome, a colonoscopy is a routine procedure for me. In fact, I get them annually.
Because of this, I've picked up many tips for enduring a colonoscopy (and prep night) along the way. And, I've learned it's good to try something new. For this colonoscopy, I tried PLENVU.
Colonoscopy Prep Night Woes
For my first colonoscopy in 2001, the hardest part was accepting I needed one. At just 17 years old, I doubted anyone else sitting around my lunch table knew about colonoscopies (although I was too embarrassed to share I was about to get one).
The prep was difficult - really difficult.
I mixed my prep with my favorite soft drink and let's just say I couldn't drink that soft drink for many years following. The salty mixture made me gag and my stomach did flips the entire night. It's a miracle I didn't throw it all up.
The miracle didn't last long because for my second colonoscopy, a year later, I did throw up the bowel prep liquid. My stomach was more sensitive and my mind remembered the horrible taste.
I attempted to drink the same prep liquid, but I threw it up into the sink and decided not to drink the second dose. It only took my GI a few minutes into my colonoscopy the following morning to realize I was serious when I said that I couldn't complete my prep.
That was the hard way I learned that there were options for bowel prep.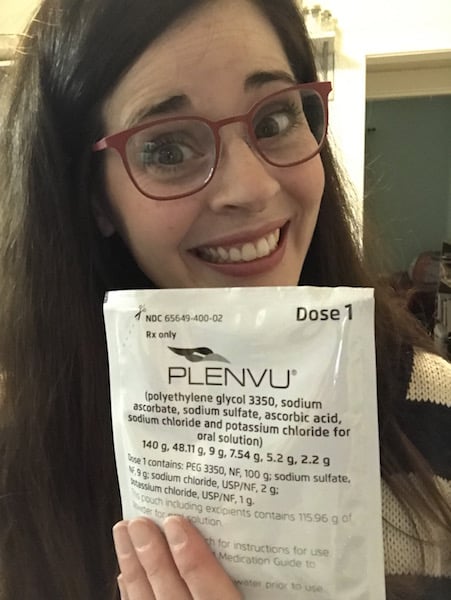 Bowel Prep Options
After being diagnosed with colon cancer a second time, my doctors determined I needed more frequent colonoscopies. I accepted my reality, and with that acceptance came confidence to ask my doctor for other bowel prep options.
From my first request to today, he's encouraged me to try new bowel prep products and find what works best for me; he wants me to have a pleasant colonoscopy prep night as much as I do.
Over the years, I've tried many preps - gallon jugs and packets full of pills.
For my 13th colonoscopy, I was made aware of a new bowel prep option called PLENVU® (polyethylene glycol 3350, sodium ascorbate, sodium sulfate, ascorbic acid, sodium chloride and potassium chloride for oral solution), which was made available in September of 2018.
I asked my doctor if I could try it. I was especially interested since it's a low-volume prep.
See additional Important Safety Information below and click here for full Prescribing Information for PLENVU®.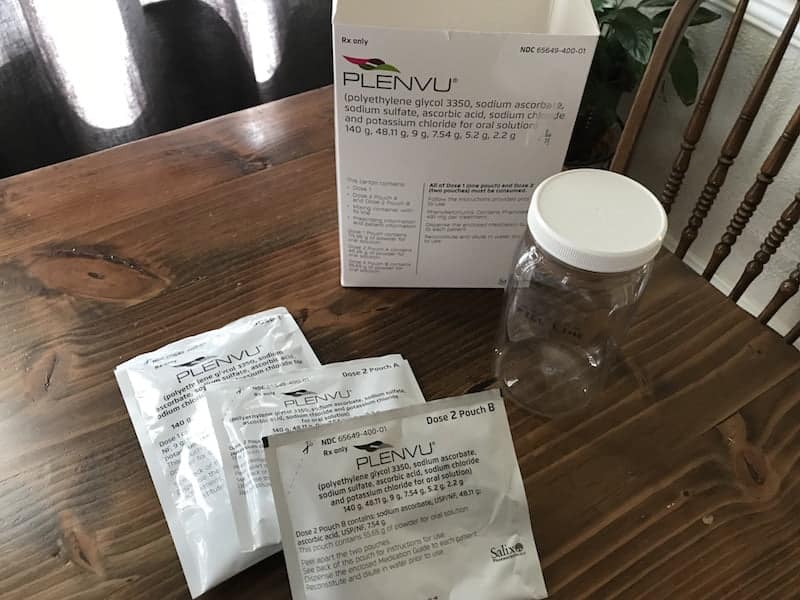 Trying PLENVU
The first thing I did when I wanted to try PLENVU was contact my GI and ask him about it. He hadn't prescribed it yet since it was a new FDA approved bowel prep product that only became available in September. Since he didn't have experience with it, the FDA approval gave me security that it was worth a shot.
My GI was very interested in seeing how the prep worked for me and gave me a green light to try it.
PLENVU Cost and Coverage
My doctor sent in a prescription to my pharmacy and I soon had a call from them with unexpected news:
My insurance didn't cover PLENVU.
I asked for my cost without any insurance coverage, and the tech gave me a price that is about double the cost of what I usually spend on colonoscopy prep products. Keep in mind pricing can vary by pharmacy. I still wanted to try it though. Why?
If it tastes better, and it's less to drink, it's well worth the added expense for me.
So, I told the pharmacist I'd like to proceed, and then I got a second curve ball:
They had to order it.
The pharmacy didn't have PLENVU in stock yet, and it took two days for the prescription to be filled. I was thankful I didn't wait until the last minute to get my prep products (like I have in previous years).
Fortunately, the pharmacy isn't far from my house. They ordered PLENVU and I picked it up a few days later.
Colonoscopy Prep Cost Tips:
To handle the cost of the prep, I asked the pharmacist about discount cards and found a way to wrap my mind around the expense to justify it. I imagined us trading in a couple of restaurant dinners to cover the cost.

Prep Day Fasting
The prep day was like many other days I've experienced before my clinical procedures. I fasted from food and drank only clear liquids. I was thankful my doctor's office and the surgery center called to go over prep instructions and reminded me to follow a clear liquid diet.
I survived on clear liquids -- black coffee, flavored water, soft drinks and tea. Like usual, I had a long list of foods I planned to eat the following day once the procedure was over.
Fasting Tips:
To survive the clear liquid diet fast, I adjusted my diet for a day or two before the colonoscopy and sipped on beverages and drinks that curbed hunger.

The Bowel Prep Taste
I was cautiously optimistic to try PLENVU, but very suspicious until I could weigh in on one critical factor:  the taste. With such bad prior experiences with bowel prep products, my stomach is very sensitive and my gag reflex is quick.
In the evening before my colonoscopy, I opened the PLENVU box, took out the dosing packets and clear container for mixing. I read the instructions and then cut open the pouch labeled Dose 1.
I poured all of it into the container and mixed it with 16 ounces of water - to the fill line. I liked how easy it was, and I didn't need to get out my own dishes or cups for mixing.
I added a few ice cubes, dropped in a straw and slowly took a sip. My eyes shot up.
It didn't taste too bad… much better than the bowel prep products I was used to. It had a fruity hint to it that helped cover the inevitable salty aftertaste I have experienced with laxatives.
I took another sip, and then another, for 30 minutes. About half-way in, it got hard to finish because the liquid was so concentrated. But, I dropped in a few more ice cubes and plowed through.
Although I wouldn't say I enjoyed it, and I wouldn't order it at a restaurant, it tasted much better than I expected, and much better than many previous products I've tried.
The rest of the night went smoothly.
Drinking Bowel Prep Liquid Tips:
I applied the same tips to this prep as I have to others in the past: drink them cold and with a straw.

Quick Results: Plenvu worked fast!
Typically during bowel preps, I've been anxious and scared they're not working. I'll drink several ounces of bowel prep liquid and then… nothing. The bowel movements often don't begin for several hours, even with my shortened colon.
After drinking Dose 1, I drank 16 oz of water and decided to shower before it all kicked in - I assumed I had a few hours. But I was wrong.
Not long after my quick shower, the prep started working and loose stools began. This continued for the rest of the night. I was thankful. I hate wondering if and when the prep is going to work. I like fast results.
Bowel Prep Bathroom Tips:
During the night of colonoscopy prep, here's what I do to get ready for a lot of bathroom time:

A Good Night's Sleep
After an evening full of bowel prepping and multiple trips to the bathroom, I felt drained and tired. I tried to stay hydrated all night, but it's hard when everything that goes in suddenly runs out. But I sipped on water and tea, and this helped curb my hunger too.
I put on a movie and around 11, I fell asleep and slept all night. By the time my head hit the pillow, my stools had been running clear.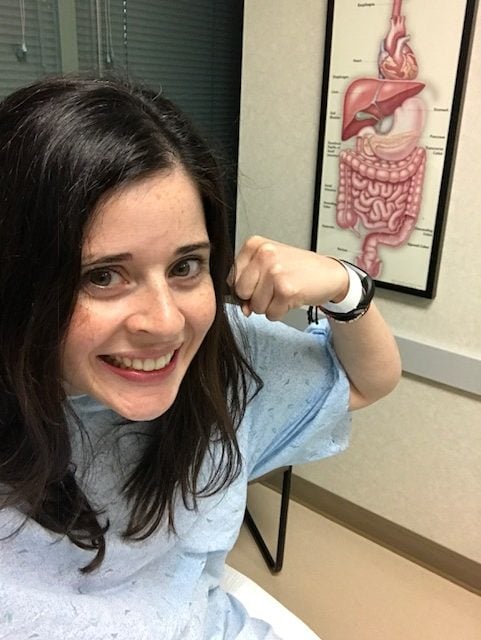 Colonoscopy Days Present and Past
After taking Dose 1 of the bowel prep the evening before, the next morning called for taking Dose 2 and I followed a routine that's become very familiar over the past decade. My husband Mike drove me to the GI's office where I went through the paperwork and check-in process.
At last year's colonoscopy, I was shocked and unpleasantly surprised at the cost due up front. But this year, I was much more prepared. I've had to accept that deductibles are high. Even though I hit mine, I still owed 50% co-insurance.
I budget all year to get this done.
I don't get "screening colonoscopies" since I have a prior history of colon cancer and I've had signs and symptoms of the disease. It's not technically considered a "screening" when you're younger and you've got a specific reason to go in, but it's just as important to get this done.
My personal history of both polyps and cancer don't leave any room for this procedure to be optional. I'm always thankful it's a relatively simple way to reduce my risk of getting cancer again, and that we will catch it early if I do.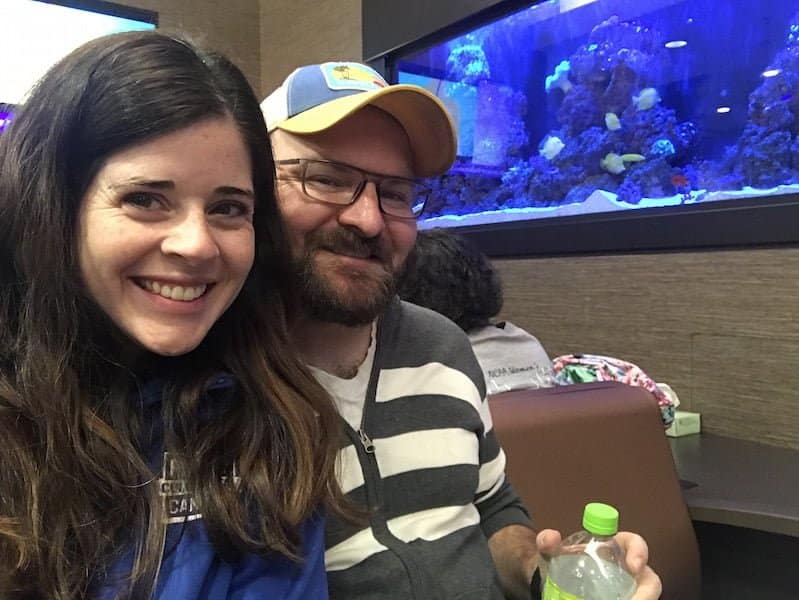 The Reports
Everything went as scheduled, and when I woke up, I was reminded of why I get these procedures done. This year I had three new polyps that the doctor identified and removed so they wouldn't turn into cancer.
At the end of the day, I'm glad I had colonoscopy #13 - these procedures truly save my life. I'm also thankful to have discovered a prep that I tolerated.
More from Danielle
If you're curious about my story, my memoir is now available: Blush: How I Barely Survived 17.
More About PLENVU
If you're interested in trying PLENVU for your colonoscopy bowel prep, here's additional information you need to know:
PLENVU's Indications and Important Safety Information:
INDICATION
PLENVU® (polyethylene glycol 3350, sodium ascorbate, sodium sulfate, ascorbic acid, sodium chloride, and potassium chloride for oral solution) is a prescription medication used by adults to clean the colon before a colonoscopy.
IMPORTANT SAFETY INFORMATION
Do not take PLENVU® if you have a blockage in your intestine (bowel obstruction), an opening in the wall of your stomach or intestine (bowel perforation), problems with food or fluid emptying from your stomach (gastric retention), a problem with food moving too slowly through your intestines (ileus), a very dilated large intestine, or an allergy to any of the ingredients in PLENVU®.
It is important to drink sufficient clear liquids before, during, and after the use of PLENVU®. Be sure to consume additional clear liquids after the first dose and second dose of PLENVU®. Stop drinking liquids 2 hours prior to colonoscopy.
Before you take PLENVU®, talk to your doctor if you:
Have problems with serious loss of body fluid (dehydration) and changes in blood salts (electrolytes).
Have heart problems or take medication that affects your heart. Your doctor may consider obtaining an electrocardiogram (ECG) test if you are at an increased risk for heart rhythm abnormalities.
Have a history of seizures or take antiseizure medication.
Have kidney problems or take medication that affects kidney function. Your doctor may want to perform blood testing before and after your colonoscopy.
Have a history of stomach or bowel problems, such as ulcerative colitis, a bowel blockage, or a suspected opening in the wall of your stomach or intestine.
Have problems swallowing, heartburn (gastric reflux), or if you inhale food or fluid into your lungs when eating or drinking (aspirate).
Have a condition that destroys red blood cells, called glucose-6-phosphate dehydrogenase (G6PD) deficiency.
Are withdrawing from drinking alcohol.
Have phenylketonuria (PKU). PLENVU® contains aspartame equivalent to 491 mg of phenylalanine per treatment.
Are pregnant or plan to become pregnant.
Are breastfeeding or plan to breastfeed.
PLENVU® may affect how other medications work. Tell your doctor about all other medications (including prescription and nonprescription medicines, vitamins, and herbal supplements) you take before you take PLENVU®. Do not take oral medications within 1 hour before or after starting each dose of PLENVU®.
Symptoms of serious allergic reactions may include skin rash, itching, raised red patches on your skin (hives), swelling of the face, lips, tongue, and throat, and kidney problems.
In clinical studies with PLENVU®, the most common side effects in patients taking PLENVU® were nausea, vomiting, dehydration, and abdominal pain/discomfort.
You are encouraged to report negative side effects of prescription drugs to the FDA. Visit http://www.fda.gov/medwatch or call 1-800-FDA-1088. Please click here for full Prescribing Information for PLENVU®.
For product information, adverse event reports, and product complaint reports, please contact:
Salix Product Information Call Center
Phone: 1-800-321-4576
Fax: 1-510-595-8183
Email: salixmc@dlss.com