What a year, 2021 will go down as one of the most crazy for me. Our house is still in a flurry of activity after the past few months. I'm not sure how I feel about the holidays kicking off in only 5 WEEKS!
Although life has been pretty nuts as of late, my ability to plan ahead and organize has come in handy this year. My communication skills are coming in strong. We powered through our piles of foster care paperwork, and we should be licensed very soon. Although it feels crazy that Thanksgiving and Christmas will be here any minute, I'm actually feeling good about the holiday season. Maybe more than any year prior to this, I'm ready for advent.
This time of year stirs up warm memories for me. The holiday season brings time with friends and family, pie baking and hot chocolate sipping. A friend of mine who I met through the colorectal cancer community, Kim, is also into the holidays and I had to share what she does every year… and what she did last year. It's called a "favorite things" party.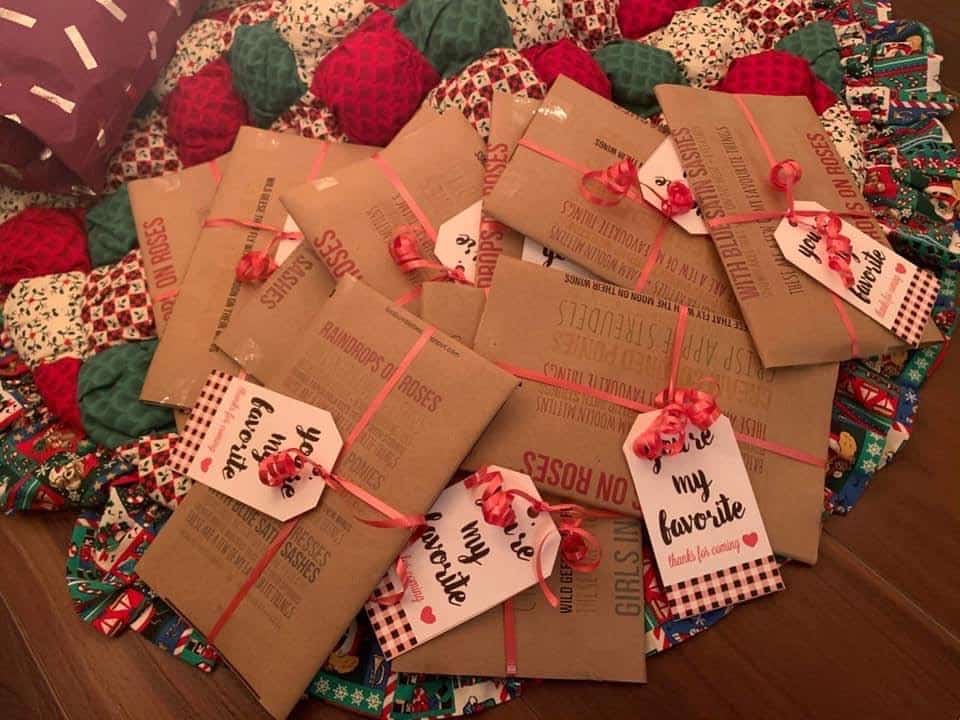 Favorite Things Gift Exchange
Each year when Christmastime rolls around, Kim hosts a cookie exchange with her friends. Last year, thanks to COVID-19, she adapted her event and hosted a different type of party. Instead of the cookie exchange, she hosted a "My Favorites" party. 
Kim invited a dozen friends and asked each one of them to bring three items, and she asked for them to be meaningful. The three items could be anything—like lip gloss, great-grandma's chocolate chip cookie recipe or three of their favorite scarf! Each item was to be wrapped, and at the end of the night, each person took home three different surprises. The favorite things gift exchange was a way for Kim and her friends to still get together (despite no cookies) and share encouragement and memories. 
Party decor
At the party, Kim and her friends dressed in holiday colors and set out their wrapped gifts on the table. Beautiful garland hung from the mantle and festive crafts made for a fun evening. At one point, party guests gathered around the table and began to distribute and open the gifts.
As three women opened up one of Kim's three items, they were holding a copy of my advent devotional, Unexpected! Not only this… but she ended up buying everyone a copy of the book. Unexpected is one of Kim's favorite things. I was so honored!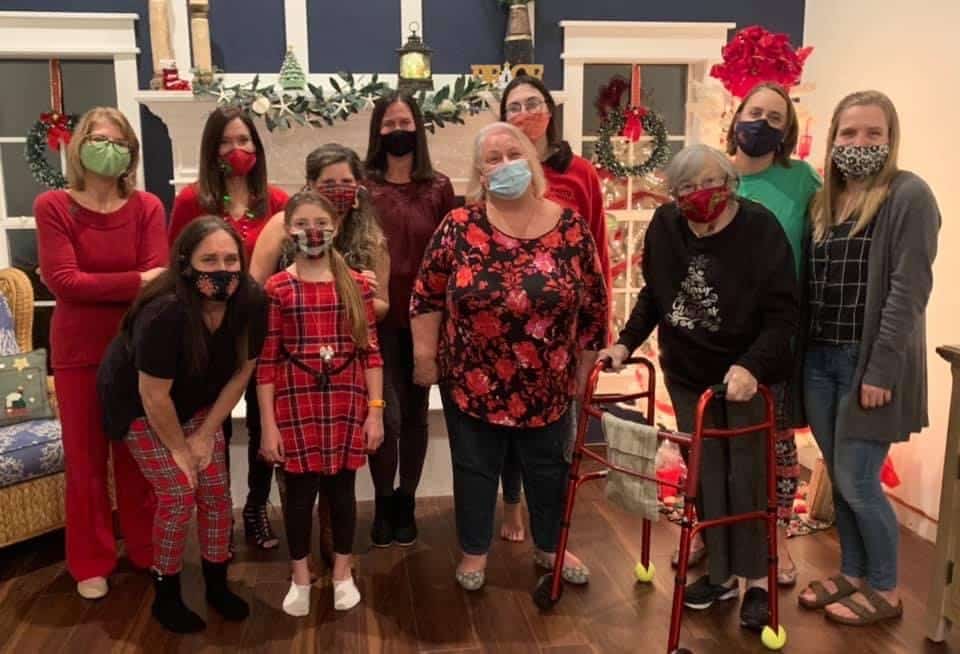 Everyone got a book
When I asked Kim why she chose to give my advent devotional, Unexpected, as one of her favorite things, she said she wanted each woman there to feel as inspired as she did when she read it. She explained to them that we met through Fight Colorectal Cancer (her husband and her mom fought colorectal cancer). She also shared a bit about my story and the reason why she cherished Unexpected so much. She has been just as inspiring to me.
Kim told me that she has turned to Unexpected for daily encouragement, even outside of the holidays. She said the book is simple and it's a quick, inspiring read:
"Sometimes I don't have a lot of time, so I pick up Unexpected and read a few pages. It's simple and encouraging and it didn't take a big chunk out of my day. Unexpected is for people of all ages and I have found that it is very relatable."
Positive Feedback
I'm humbled and elated to hear that Kim received positive feedback from everyone at the party.
"My mother kept it by her bedside and read it every night. My niece who is only 16, reads it whenever she has time in the morning or night," Kim told me.
Wow, I'm thrilled to hear that Unexpected made Kim's "My Favorites" party. If you haven't checked it out, you can order it on Amazon now.