Looking for an amazing chocolate chip cookie recipe? Here's my all-time favorite one, Soft & Chewy Chocolate Chip Cookies by Martha Stewart.
This isn't a secret recipe of mine. I wish I could take credit for it! I make these cookies all the time. See below for tips and tricks. Thank you, Martha Stewart, for this chocolate chip cookie recipe! You've made me a cookie-baking pro!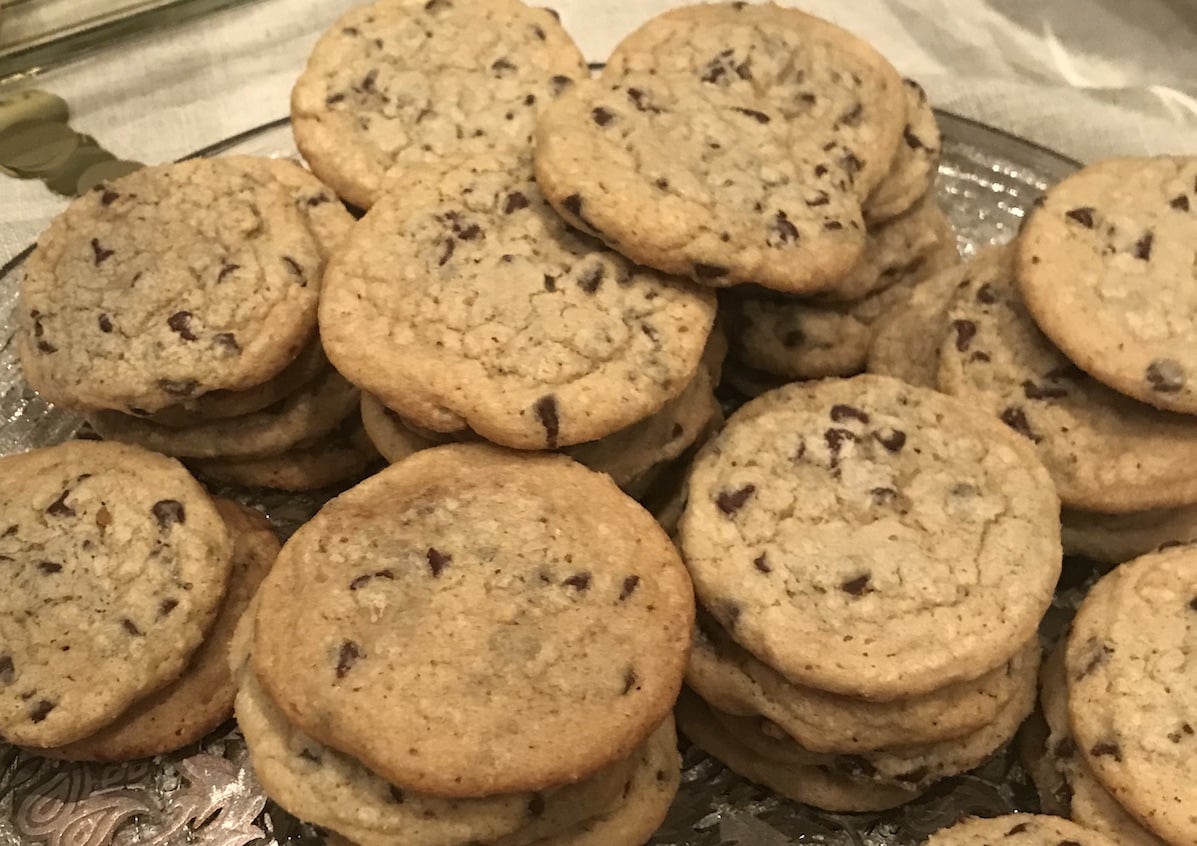 Chocolate chip cookie recipe
Here's my source: Soft and Chewy Chocolate Chip Cookies by MarthaStewart.com. I've used this recipe for 10+ years, and it hasn't steered me wrong.
Cookie Ingredients
2 1/2 cup flour
1/2 teaspoon baking soda
1 cup (2 sticks) unsalted butter, room temperature
1/2 cup granulated sugar
1 cup packed light brown sugar
1 teaspoon salt
2 teaspoons pure vanilla extract
2 large eggs (I make them room temperature)
2 cups (about 12 ounces) semisweet and/or milk chocolate chips (I use mini semisweet chocolate chips)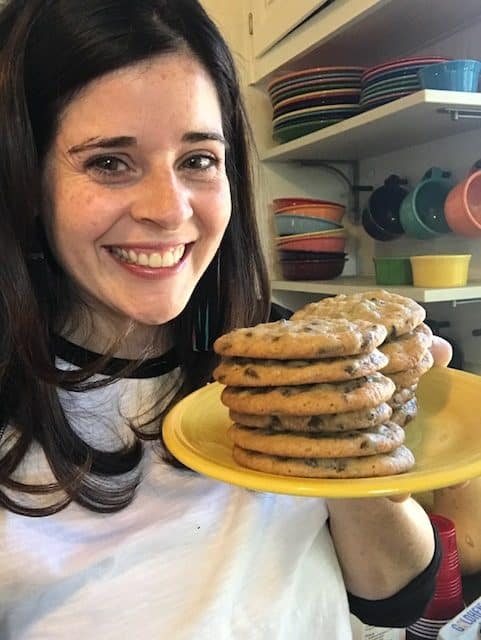 Baking Directions
1. Preheat oven to 350 degrees. Line two baking sheets with parchment paper.
2. In a small bowl, mix flour and baking soda; set aside.
3. With a paddle on your mixer (I use my Kitchen Aid), combine the butter with both sugars. (I beat for awhile until it's fluffy - around 3-5 minutes.)
4. Stop the mixer & scrape down the sides. Then, turn it on "stir" and add the salt, vanilla and eggs. (Beat for a good minute or two.) 
5. Add in the flour mixture bit by bit and stop the mixer just when all the flour is mixed in.
6. Pour in the bag of chocolate chips (A lot of recipes tell you to stir them in, but I use the minis and have the mixer take a few more turns to get them mixed in well.)
7. You can chill the dough if you want, and I've also scooped it into little balls and frozen it - but you don't have to. I use a cookie scoop and fit 12 cookies per parchment-lined baking sheet. Put in the oven for 11-13 minutes. If you bake them all you'll have around 3-3 1/2 dozen.
8. When the edges of the cookies start to turn light brown but the middle looks set (it's OK if it's a tad bit gooey in the middle), take them out of the oven and let them rest on the pan for 5-10 minutes. (Leaving them in the oven longer until the entire cookie is light brown will result in a harder, crunchier cookie.)
9. If you don't devour them all directly from the pan, let them cool on a wire rack for a few more minutes.
10. If you still haven't eaten them all and need to store them, use an air-tight container.
Chocolate chip cookie recipe tips
If you're going to bake this recipe, here's a few of my tips and tricks:
Make sure you're using

unsalted

butter.
Ideally, set your butter out several hours ahead of time so it's room temperature. While you're at it, set the eggs out too—safest way to go is in a cup of water.
Mix the ingredients really well, this isn't a delicate cake or muffins, so the more mixing the better.
Caution: I've made the mistake of cracking eggs over the bowl while the mixer is going, only to mix the egg shell into my batter, too many times to count. Crack your eggs in a seperate bowl and then add them in. 
Use parchment paper to line your cookie sheet.
I like to use a cookie scoop so all of the cookies are the same size and the dough comes out nicely onto the cookie sheet.
I use standard light-gray (not dark) cookie sheets (that are NOT air bake).
Don't over-bake. To find the time that's right for your oven, stand nearby.
Why is Martha Stewart's chocolate chip cookie recipe my favorite?
I've tried a lot of chocolate chip cookie recipes. I've also tried other recipes by Martha Stewart for chocolate chip cookies, but her soft and chewy ones are my favorite. 
Some recipes use all butter (like this one), others use shortening, or a half butter-half shortening mix. I personally like them all, but the flavor of this all-butter cookie makes it special. Martha knows what she's doing.
I also love that this chocolate chip cookie recipe is chewy.
I think the chewiness comes from the sugar ratios. This has more brown sugar than white sugar (many recipes will use equal amounts), and the brown sugar gives it a deeper flavor.
The mini chocolate chips, usually semisweet, are my special touch. These mini chips get more chocolate bits sprinkled throughout the cookie. Personally, I love them.