Happy Pi[e] day – this glorious day where we celebrate all things pie. Today, I am sharing my favorite blueberry pie recipe.
If you're just here for the recipe, here it is:  My favorite blueberry pie recipe.
If you're here for a cute little story on why I love this blueberry pie recipe, keep reading.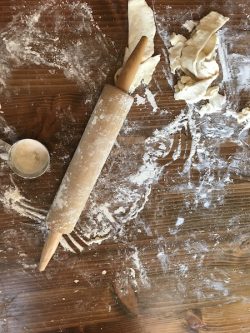 B's Kitchen
If you follow my B's Kitchen posts, you know I'm not a professional baker. Far from it.
I'm just a girl who loves a little "baking therapy" and enjoys making recipes I find on the internet.
And then, I blog about it to share what I like best.
Today, I'm sharing my favorite blueberry pie recipe. I say favorite not only because I like it, but it's a family favorite.
In fact, I took it to small group one time and my friends said, "This is the best pie we've ever eaten."
So yeah – it's pretty yummy.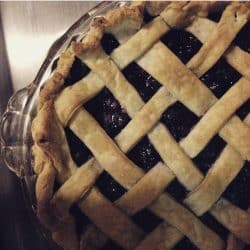 Why Blueberry pie?
I started making blueberry pie a few years ago. At first I tried it because I had a ton of fresh blueberries to use.
And then I kept making it because BLUE is the color for colorectal cancer, and March is Colorectal Cancer Awareness Month, and pi day falls on 3.14 which is in March – so it's perfect.
See what I did there?
I wouldn't have ever guessed blueberry pie would become one of my favorites, because blueberries aren't my favorite fruit (I mean they're great but I like others better.)
But this pie quickly climbed up the charts on my favorite recipes list.
It's sweet, but not too sweet, and it's filling. It's ooey gooey, and goes great with some vanilla ice cream.
Not to mention the crust is super flaky – oh wait – let's talk about the crust.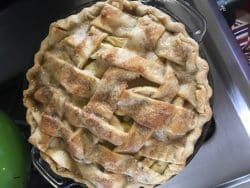 A good pie crust recipe
Most bakers know pie crust is important. You can buy it pre-made – I've done this before. It's not as good, but it works if you're short on time.
But if you've got the time, and/or a lot of stress you need to work out with a rolling pin – then use this recipe. It will taste better.
It's simple, just a handful of ingredients, and it's not failed me yet. Here it is:
Our Favorite Pie Crust by Martha Stewart
If you make this, make sure your butter is cold, along with your ice water.
And don't rush it – let it cool in the fridge once you mix it together.
This was my beginner crust, and it's not failed me yet.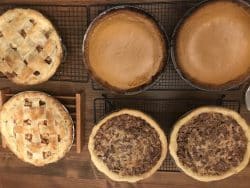 Pie, pie galore
So friends, if you've made it to the end of this story, Happy pi day once again.
If you've got a favorite pie recipe, I'd love to see it – share it in the comments below.
Let's bake together!
—
Read more from Danielle – subscribe now.