Happy Pi[e] day - this glorious day where we celebrate all things pie. Today, I am sharing my favorite blueberry pie recipe. Out of every pie I've ever made, this one is always the favorite. The pie crust is by Martha Stewart and the pie filling is by Allrecipies.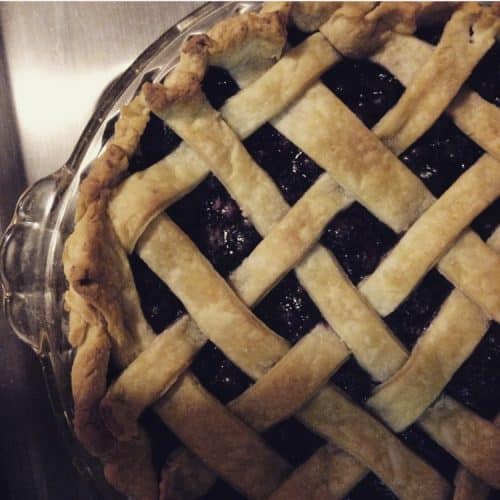 Get the recipe
Filling: My favorite blueberry pie recipe on AllRecipes.com
Pie Crust:  Our favorite pie crust by MarthaStewart.com
Ingredients
Crust (*make sure to double this)
1 1/4 cups all-purpose flour (spooned and leveled), plus more for rolling dough
1/2 teaspoon salt
?1/2 teaspoon sugar
?8 tablespoons (1 stick) cold unsalted butter, cut into pieces
?4-6 tablespoons ice water (*I've adjusted this amount)
Pie filling
3/4 cup white sugar
3 tablespoons cornstarch
1/4 teaspoon salt
1/2 teaspoon ground cinnamon
4 cups fresh blueberries
1 tablespoon butter
Why blueberry pie?
I started making blueberry pie a few years ago. At first, I tried it because I had a ton of fresh blueberries to use. And then I kept making it because BLUE is the color for colorectal cancer, March is Colorectal Cancer Awareness Month, and pi day falls on 3.14 which is in March - so it's perfect.
I wouldn't have guessed blueberry pie would become one of my favorite pies because blueberries aren't my favorite fruit (I mean they're great, but I like others better.) But this pie quickly climbed up the charts on my favorite recipes list.
It's sweet, but not too sweet, and I think that's why people love it. It's ooey gooey, and it goes great with vanilla ice cream. Not to mention if you bake it with the homemade crust, it's downright delicious.
A plea for homemade pie crust
I've made this pie with store-bought pie crust, and it can be done. But you know what comes next—it's not as good. If you've got the extra time, it's totally worth it.
A few pie crust tips:
The outside temperature may influence how much water you need - your dough needs to stick together, but not be too crumbly (add more water) or too wet and sticky (add more flour)
Don't over-beat the butter and keep the crust in the fridge between steps—especially since this is a double crust. Don't let it get too warm and melt. (Butter chunks = flaky crust)
Grace and efficiency look like using a food processor
Use a baking mat to roll out the dough so it doesn't stick
Practice and be patient, I've made a lot of homemade pie crust and I still totally fail.
This was my beginner crust, and it's not failed me yet.