The overhead "ding" signaled it was time. Our plane was about to take off for Guatemala.
Although I'd prepared for the trip for several months, a sudden anxiety hit me. About to leave the safety of my country, unfavorable news headlines and "what if" scenarios flashed before me. I was soon entertaining rapid thoughts and fears that my life was about to end. Foreign soil felt so unknown and unsafe.
What on earth was I doing?
Fortunately, a woman named Doris was sitting next to me. As the flight got underway, we started talking.
I learned that she too was an American, but she moved to Guatemala several decades ago and made it her permanent residence. With clouds above and below us, she began to tell me about the country she now calls home.
For several hours, I learned stories about Guatemala's famous coffee, kind people, stunning beauty and rich culture. By the time our plane touched down, my anxieties and fears were gone.
I couldn't wait to explore a new place.
It's common to experience fear and anxiety when we leave what feels comfortable and safe. But when God calls us to experience something new, or if we find ourselves suddenly dropped into a new situation, He will provide what we need. When we're in foreign territory or on new ground, look for Him. He will provide just what we need to feel secure and safe. 
Sometimes it's obvious, like a billboard. Othertimes, it's a faint light. Sometimes, it's a verse, prayer or song to encourage us. Other times, it's a gift or a friendly face like Doris. 
When everything around us feels uncertain, remember: God promises to never leave nor forsake us. He's with us, even if we're feeling rocky and uncertain. His promises follow us everywhere, even when we're on new ground.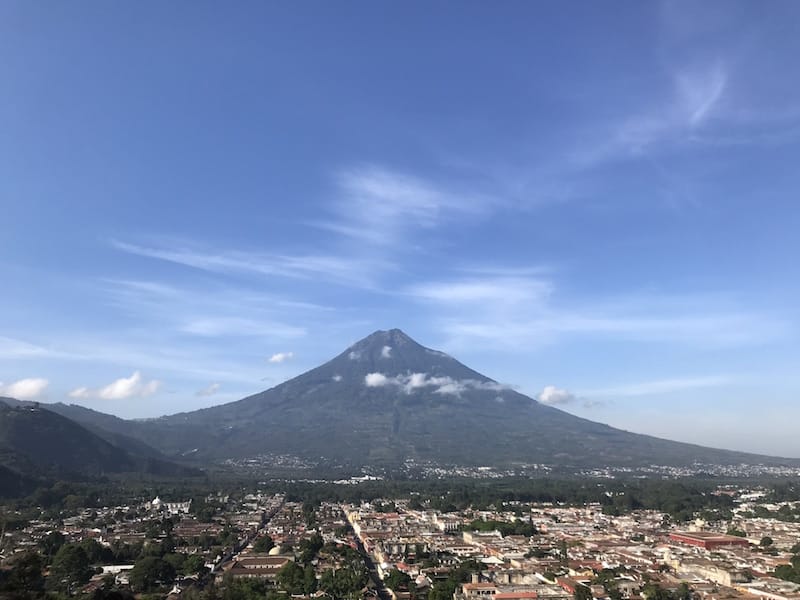 Prayer: Heavenly Father, help me find your gentle reminders that I'm not alone when I enter new ground. Open my eyes to how you're supporting and encouraging me when I feel afraid or anxious. In Jesus' name. Amen.
Be strong and courageous. Do not be afraid or terrified because of them, for the Lord your God goes with you; he will never leave you nor forsake you. Deuteronomy 31:6, NIV
This devotional first appeared in the Monday Morning Survival Guide. Subscribe to get next Monday's devotional emailed to you.
You Can Survive This!
Get a devotion, prayer and journal prompt to help you face each week. Subscribe to the Monday Morning Survival Guide.