I LOVE these biscuits, and this is by far my FAVORITE biscuit recipe. I've blogged about them. I mention them in Blush. I make these biscuits almost every week in between fall and winter. They're easy. They're good. And, they're adaptable. Here's how we make homemade biscuits at the Corner of Monroe.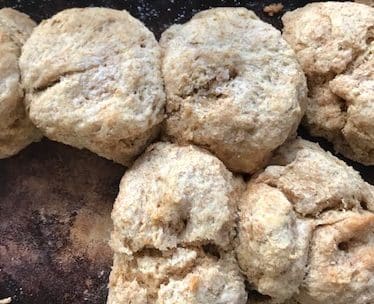 Get the recipe
Best Damn Vegan Biscuits by Minimalist Baker (original recipe)
Ingredients 
(This has been adapted to reflect how I bake them at home... I don't make them vegan)
1 cup unsweetened, plain almond milk
1 Tbsp lemon juice
1 cup unbleached all-purpose flour
1 cup whole wheat flour
1 Tbsp baking powder
1/2 tsp baking soda
3/4 tsp sea salt
4 Tbsp unsalted butter
Jams or honey to spread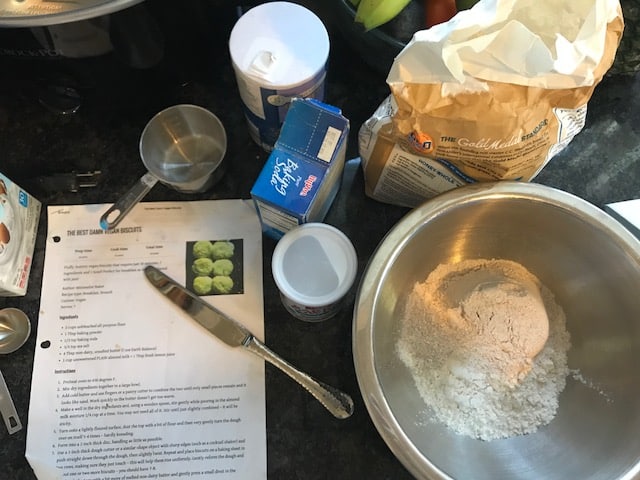 Tips and Notes 
I make whole wheat biscuits by substituting 1 cup of whole wheat flour for 1 cup all-purpose flour (reflected in the original recipe). The original is yummy, but I think using the whole wheat is what made them our favorite biscuit recipe
I use almond milk, however I don't use vegan butter (thus, ours aren't vegan). I use plain, unsalted butter in replace of the vegan butter prescribed by the original recipe.
Mix the almond milk and lemon juice right when you begin.
Use a biscuit cutter to cut in the butter. 
I use a silicone baking mat to roll out the dough. It doesn't only eliminate some of the mess, the process goes much quicker. 
No biscuit cutter? A wine glass or plastic cup works great!
Make sure the biscuits are touching one another when you arrange on the pan before baking.
A cast iron skillet can also be used to cook these.
I've cut these biscuits into a variety of sizes. You may need to adjust the baking time if they're larger than normal. Adjust the baking time and cook long enough to where the outside edges don't look gooey when you start to pull them apart.
Why is this our favorite bisucit recipe?
These biscuits are flaky. They aren't too dense or heavy. They're easy to make. And, they go well with both jelly and honey smothered on the top.
We eat them with soup. We make breakfast sandwiches with them. They're a delicious addition for any meal of the day!
More from B's Kitchen
I'm always testing and trying out new baked goods. Get more of my hand-picked favorite recipes. Subscribe to my Monday emails and get notified when I post a new recipe.
GET ALL THE STORIES
Stay in the loop and get notified about Danielle's latest blogs and projects.