17 is a number that has followed me around for a long time, and today, I'm going to give you 17 reasons I can see how God used colon cancer for my good.
For the past 17 years, I've been telling the story of being diagnosed with stage III colon cancer just a few weeks after I turned 17 years old.
Today, I'm a 17-year colon cancer survivor.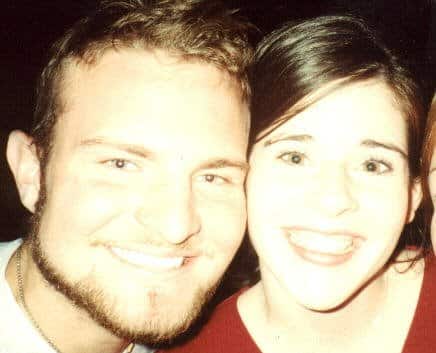 Some years on this "cancer-versary," I've felt empowered and strong. Other years, I've wanted to crawl into a hole and forget this day in 2001 ever happened.
Or drown myself in sprinkled donuts, cake and every chocolate chip cookie behind the bakery's glass showcase.
It's been a process to move through the stages of grief, and especially the phases from angry to acceptance.
It's been much more difficult than social media has probably made it look.
But with today marking 17 years since cancer first entered my world, I'm not only reminiscing on a life now lived half with cancer and half without, I'm looking out over a decade of journeying (and sometimes wandering).
I'm reflecting on an era full of longing for purpose and understanding - years the nagging question of "why me" has followed me around.
And I'm grateful to be in a place of peace, a place I can finally look out over the past 17 years and see beautiful things coming from such hardship and pain.
17 Ways God Meant Colon Cancer For My Good
Joseph is a hero of mine who also had misfortune come his way when he was 17 years old.
He too faced a series of traumatic events, but he kept the faith and found himself on the other side of his pain, able to say these words to his abusers with a clear and genuine heart:
"As for you, you meant evil against me, but God meant it for good, to bring it about that many people should be kept alive, as they are today." Genesis 50:20
Today, I can say the same thing.
Here are 17 reasons I can see God using my colon cancer for good:
Reason #1:  I found my voice.
Because of colon cancer, I started to blog and learned how much I love to write. (Thank YOU for reading!)
Reason #2:  Empathy.
I know how it feels to live with physical pain. To fear a surgery and a scan. To have constant diarrhea. To forego sexy underwear. For those who can relate, I feel ya. You are not alone.
Reason #3: More Empathy.
I know what it's like to be different.
To not get my way even through I've prayed for it, and to feel like things are outside of my control. I've struggled with that so deeply, it brings out the ugly in me that I really wish wasn't there. (I mean isn't the cancer enough!?)
But when it comes out, I feel freer. And I can love people deeper than I could have before - even people struggling with the same thing.
Reason #4: I've learned it's OK to not be OK.
A very hard lesson, but a good one. If not for cancer, I'm not sure I would have found peace in admitting I am a total hot mess sometimes this early into my life. (Yes, Andy, I still think *mid-30s is early in life!)
* I put mid-30s since my brother so graciously called me after my exercise post to make sure I knew age 34 was not "early-30s" anymore. 
Reason #5: I've got a built-in diet plan.
The days of binging greasy burgers and fries with a topped off strawberry milkshake will never come my way without consequence - but I'm not sure that's a bad thing.
Reason #6: Diapers don't scare me.
A lot of babies "do their business" when they're in my arms. I like to think they realize it's OK to poop when they're around me, and that I'll feel comfortable talking about it with them afterwards.
A lot of people talk about their poop with me, not just babies, which I don't mind one bit. I love being someone people can open up to about anything - even their bathroom habits.
Reason #7: Mae.
Speaking of kids - colon cancer directed my path to adoption and it's my absolute honor to be called "Mama" by one of the most special, beautiful, life-filled, imaginative girls that's ever taken a breath on this planet. (Not that I am biased or anything.)
Reason #8: Mike.
While I'm getting all mushy on you, let me say cancer didn't introduce me to this guy -- our friend Erin did my freshman year of high school. But when he didn't leave me high and dry at age 17, in fact he wouldn't hardly leave my side, my doctor took notice and told me point-blank to marry him. So I did (a few years later).
Reason #9:  I can see the good inside of people.
I hope you don't think I'm trying to make light of cancer or how bad it can be - because I'm not. It's pretty brutal and evil.
However, walking through such a situation seems to actually bring out the opposite in most people. The kind words and generous offers to help. The passion to advocate on behalf of those who are hurting. There's good in just about all of us - cancer helps me see it.
Reason #10: I can laugh at myself.
"We're all parts of the body of Christ, but Danielle's not the colon." My friends made that joke a few years ago, but it's true. And it's funny. I laugh about poop. I talk about farts.
Colon cancer has lightened me up.
Reason #11:  I've ditched religion.
I used to be pretty uptight and spiritual, religious I'll even say.
But between facing multiple cancer diagnoses and having to dig in and really sift through what I believe, I've had to ditch the religious garb that doesn't hold its weight when a Goliath like cancer comes around.
This might sound crazy to people either of extreme conservative traditions, or those who don't claim faith at all - to hear me say I don't consider myself "religious."
But let's just say it's not about religion to me, and I've found an amazing peace and joy along my faith journey that's helping me love deeper than ever before.
Reason #12:  I've met famous people.
My role at Fight CRC gives me amazing opportunities like meeting celebrities - which is pretty stinking cool and fun.
Reason #13: I've learned to advocate.
Through getting involved in the colorectal cancer community, especially The Colon Club and Fight CRC, my eyes are open to the impact of my story. I pray one major reason I've survived is to help save the lives of others.
Reason #14: I eat boxed mac & cheese guilt-free.
As well as other delicious, white, processed, carbohydrate products that actually digest really well. And on good days when I splurge on a corndog, I don't feel bad about it.
Reason #15:  I realize I'm going to die one day.
I had to come to terms with this early in my life, but there's something beautiful about it that keeps unfolding and guiding me each day.
Reason #16:  I've learned I'm not alone.
My mom's spent many nights on uncomfortable hospital couches.
My dad drove me to and from radiation for three weeks straight.
My brother wrote a paper calling me his hero.
My Aunt Deb still prays for me every single day.
I have so many aunts, uncles, cousins, in-laws, friends and even some strangers, who have sent me countless cards and flowers over the years. I've received dozens of meals and acts of generosity. To be the recipient of so much tangible love is humbling and at the same time soul-filling. I'm keenly aware I'm not alone in this world.
Reason #17:  I feel free.

I am not cancer, I had cancer.
And while sometimes it's hard to not let it become my life, I've come to realize cancer is the springboard for which I've had to learn about life.
I've walked the freedom process that many souls stuck in darkness have also faced, and step-by-step I've come into the same place of freedom that the end of the steps, the top of the pyramid, can lead to. If not for cancer, I wouldn't be where I am now - free and at peace with whatever may come my way next.
Eager to help a fellow sojourner along the way.
Those are just a few of the reasons I've seen God use my shocking case of late-stage colon cancer at age 17 for my good.
If you can think of more let me know. I'd love to read your replies and comments below!